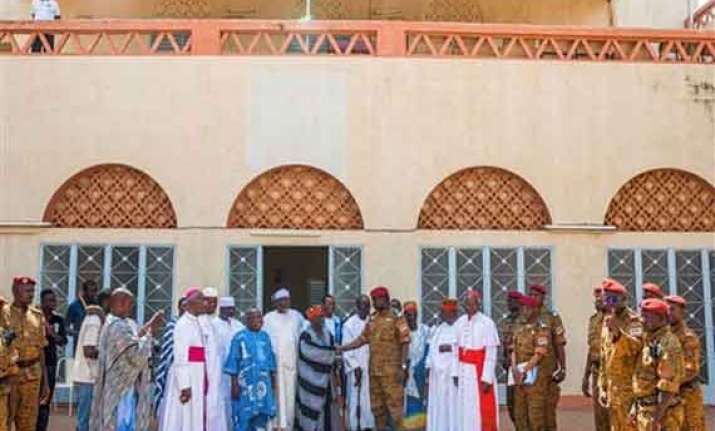 Ouagadougou, Burkina Faso: Diplomats pressing Burkina Faso's military ruler to return the country to civilian rule said on Wednesday they are seeking names of people who could serve as interim head of state until elections are held.
The presidents of Nigeria, Senegal and Ghana are in Burkina Faso to mediate after the African Union gave Burkina Faso's military a two-week deadline to hand over power or face sanctions that could cripple the landlocked, desperately poor country.
In a sign of growing tensions, though, a meeting that brought together the political opposition and others descended into chaos.
Burkina Faso's president of 27 years, Blaise Compaore, stepped down on Friday amid mounting opposition to his bid to seek yet another term in office. Compaore never identified a potential successor and his departure has created a power vacuum in which at least three people have tried to take over control of the country in the past week.
Opposition members and other activists stormed out of Wednesday's meeting shouting "We don't agree!" after some from the former ruling party showed up for the session.
"We can't sit in the same room as those who are to blame for the deaths of the victims whose bodies we have not yet even buried," said Mathias Tankoano, a human right activist and member of the civil society delegation. "They should be prosecuted for the deaths and for acts against the constitution that have resulted in violence in our country."
U.N. Secretary-General Ban Ki-moon backed the mediation effort by the three presidents and reiterated his call for "an inclusive dialogue" to continue, U.N. spokesman Stephane Dujarric said.
The U.N. chief encourages all parties to reach an agreement for a peaceful civilian-led transition as soon as possible, he said.
Dujarric said a joint mission of the African Union, U.N., and the regional bloc known as ECOWAS is continuing consultations with all parties and other forces "to ensure a democratic civilian-led transition in Burkina Faso." He said the mission "will continue its efforts to help resolve the crisis in line with the national constitution."
The U.N. Security Council expressed "full support" for the joint mission and urged Burkina Faso's security forces to hand over power to a civilian-led transition and take immediate steps to restore constitutional order without delay.
In a press statement late Wednesday, the council called on all parties to collaborate and launch "a peaceful, civilian-led and democratic transition process leading to the holding of free, fair, inclusive and credible elections as soon as possible."
According to the country's constitution, the speaker of the parliament should be the one in charge until elections can be held, according to Roch Marc Christian Kabore, leader of an opposition political party.
Burkina Faso's military, however, has designated Lt. Col. Isaac Yacouba Zida as the transitional leader following the departure of Compaore.
The international community is ramping up pressure to try to avoid prolonged martial rule or further unrest in Burkina Faso, a country of relative stability in a volatile region marked by coups and power grabs.
Nigeria's President Goodluck Jonathan, Senegal's President Macky Sall and Ghana's President John Dramani Mahama aimed to continue the discussions during their visit to the country.