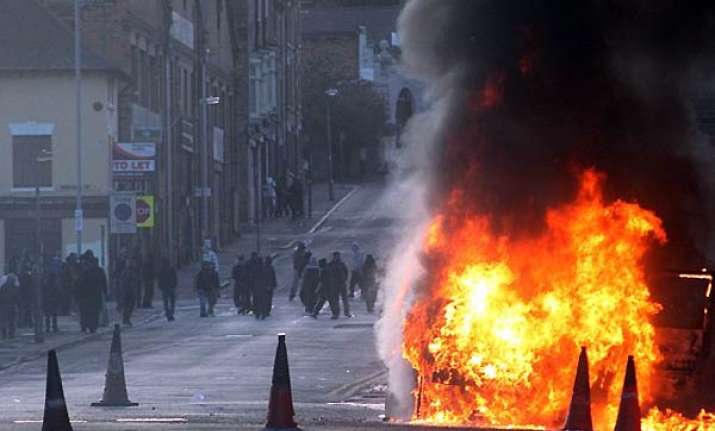 London, Aug 10: Three  Asians died after they were hit by a car in a hit-and-run incident in Birmingham in the early hours of this morning.

The trio - two brothers and a friend - had just emerged from a mosque and were on the streets protecting their car wash business after the previous night's violence, according to a family member, reports Daily Mail.

Kabir Khan Isakhel, a relative of one of the dead brothers, told Sky News this morning that two cars had approached at high speed and struck the trio.

He said: 'They were not in the way or blocking the road. The car swerved towards them. They went flying up in the air.'


A police source said: 'As far as we understand, there was an altercation in the street in the early hours of the morning, and these three men were allegedly mown down by one man in one car.

'It's difficult to say at the moment whether the incident is linked to earlier unrest, but we are investigating.'

They were hit by the car while on Dudley Road, near the Jet Filling Station, close to the border with Cape Hill in Smethwick.

A spokesman said: 'West Midlands Police have launched a murder inquiry, arrested one man in connection with the incident and recovered a vehicle from near the scene which will be examined by forensics experts.'

The three were taken to Birmingham City Hospital, where a large crowd gathered this morning at around 5.45am and police in riot gear stood guard at the main entrance.


West Midlands Ambulance Service confirmed that all three men had been in collision with a car and that crews of paramedics found around 80 people at the scene of the incident when then arrived.

An ambulance service spokesman said: 'The incident took place close to the Jet filling station on Dudley Road in Winson Green at approximately 1.15am.

The A457 Dudley Road was closed both ways between Moillett Street and Cavendish Road.

'Three ambulances, two rapid response vehicles and an incident support officer was sent to the scene.

'When crews arrived they found around 80 people at the scene with resuscitation ongoing on three men.


'Crews used their advanced life support skills while police officers provided support.'

The ambulance service said two of the men were pronounced dead soon after arriving at hospital, while a third died later in hospital shortly before 7am this morning. 

A spokesman said the man had received treatment at City Hospital for several hours before dying from his 'significant' injuries.

Police are appealing for witnesses or anyone with information to come forward.