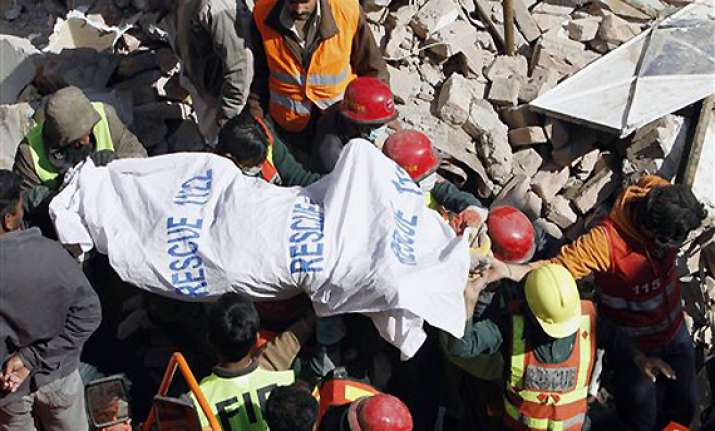 Islamabad, Feb 17: A suicide bomb attack outside a mosque in Pakistan's restive northwestern tribal belt today killed 25 people and injured over 40 others, police said. 

A suicide bomber, who was on a motorcycle, detonated his explosive vest outside the mosque in the crowded Kurmi Bazar at Parachinar, the main town of Kurram tribal region, which has been rocked by sectarian violence over the past few years.

Authorities imposed a curfew. Officials told the media that the local hospital had received 25 bodies and over 40 injured persons.

The officials described the condition of a few of the injured as critical. An emergency was declared at the hospital. They feared that the casualties could rise as the bomber had struck at a time when the market was full of people.

The bomber blew himself up shortly before the weekly Friday prayers.

Earlier reports had said a car bomb had gone off at the market.

Witnesses said several shops and vehicles were destroyed by the blast. Most of the casualties were civilians, they said.

The injured were taken to hospital by local residents in private vehicles. Security forces cordoned off the site of the attack and launched a search operation.  No group claimed responsibility for the attack. 

Officials said the attack might be linked to sectarian tensions and that the mosque may have been the bomber's target.

Hundreds of people have died in clashes between rival Shia and Sunni tribesmen in Kurram Agency over the past four years.

The situation in the region was exacerbated after Taliban fighters began backing the Sunni tribesmen.