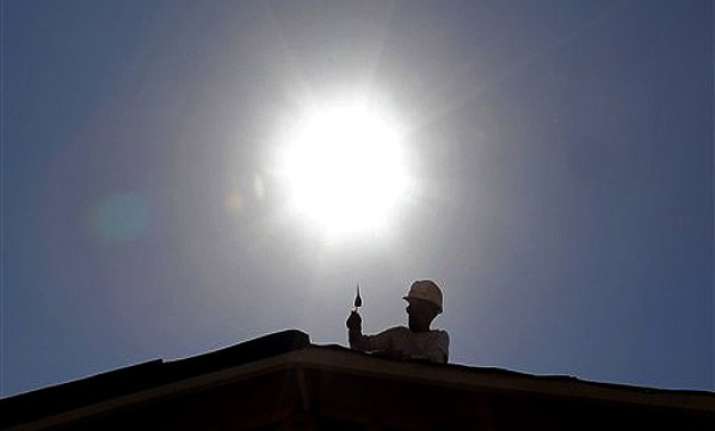 New Delhi: In a latest report published by US space agency NASA and National Oceanic Atmospheric Administration (NOAA) on friday, it  has been revealed that 2014 has been the most hottest year of the planet earth. The agencies had been keeping this records for every year since 1997.
Before 2014, the most hottest year was 2010.The latest figures have once agin ignited the debate of cutting the emissions of green house gases by the developing and the developed countries. The maximum temperatures in the various parts of the country were found to be excessively higher than normal. The areas include Russia, most parts of  Europe, Africa,Australia and many parts of Latin America
 The  director of NASA's Goddard Institute of Space Studies has said "While the ranking of individual years can be affected by chaotic weather patterns, the long-term trends are attributable to drivers of climate change that right now are dominated by human emissions of greenhouse gases,"
 It is an alarming condition since studies and recent researches in whather pattern has suggested that there may be more instances of extreme heat and rainfall. It projected that water level in the seas and oceans will continue to rise as ice caps are melting rapidly from Greenland to Antartica.
NASA has also said that the average temperature of Earth has risen by 1.4 degrees Farenheit(0.8 degree celsius) . Meanwhile the United Nations worried about the changing patterns of whether has said that  it is already clear that promises for emissions curbs at the Paris summit will be too weak to get on track for a UN goal of limiting global warming to 3.6 degrees F (2 degrees C).
"The globe is warmer now than it has been in the last 100 years and more likely in at least 5,000 years," said climate scientist Jennifer Francis of Rutgers University, who wasn't part of either research team. "Any wisps of doubt that human activities are at fault are now gone with the wind."
Nine of the 10 hottest years in NOAA global records have occurred since 2000. The odds of this happening at random are about 650 million to 1, according to University of South Carolina statistician John Grego.
NASA's Schmidt says temperatures will continue to rise with year-to-year variations and he wouldn't be surprised if 2015 breaks 2014's record: "The increase in greenhouse gases is unrelenting and that in the end is going to dominate most things going on."