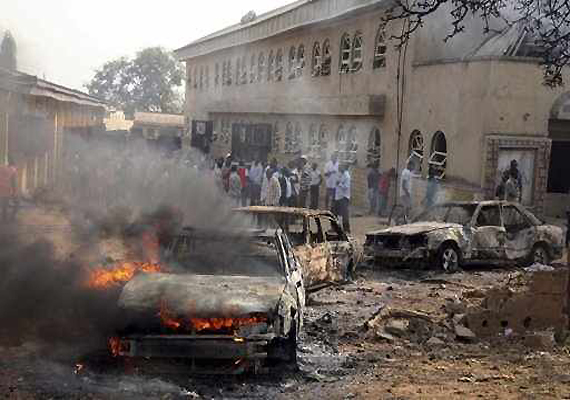 Abuja, Mar 11: At least 20 people were killed and several others injured today in a fresh wave of violence in Nigeria's flash-point city of Jos when a suicide car bomber targeted a Catholic church, sparking rampage and riotings.

A bomb-laden car driven by a suicide bomber exploded outside a church in Jos killed at least 10 persons and injuring several others.

The incident took place during a Sunday church service at the highly attended St. Finbar's Catholic church located at Rayfield at the centre of the city. The roof of the church was broken while the windows were blown off.

The bomber could not make it to the church building as guards at the gates stopped him. He died when the explosive detonated after some altercations with the security men outside the church. Most of the dead were identified to be members of boy's scout who help in directing motorists to car parks within the premises.

"We may have higher number of casualty but for now we are concerned with taking the victims to the hospital for treatment" National Emergency Management Agency (NEMA) spokesman, Yushau Shuaib told PTI.

Spokesman for Plateau state, Pam Ayuba confirmed the bombing adding that the bomber destroyed many things.

Also a source told PTI that youths who went on rampage after the bombing have killed 10 persons in the city associated with internecine clashes. As soon as the news of the bombing was heard within the town, Christian youngsters took to the street attacking Muslims.

A terror group, Boko Haram has been attacking churches and mosques in northern Nigeria and has killed several people in such attack. The Muslim group claims to be waging war to install an Islamic government and Sharia rule in Africa's largest oil producer.