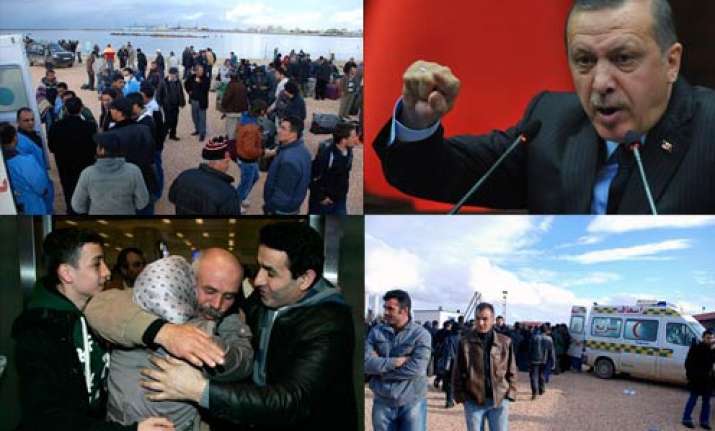 Ankara, Feb 23 :  Two Turkish ships evacuated 3,000 Turks from Libya on Wednesday as nations around the world scrambled by air and sea to pick up their citizens stranded by Libya's bloody unrest.   
Thousands of people remained at the airport in Tripoli to await evacuation, and Egyptians gathered at the border to escape the chaos. On Tuesday, British Airways and Emirates, the Middle East's largest, said they were canceling flights to Tripoli because of the violence there. Libyan leader Moammar Gadhafi has urged his supporters to strike back against the Libyan protesters in an escalation of a crackdown that has led to widespread shooting in the streets. Nearly 300 people have been killed in the nationwide wave of anti-government protests.   
The two Turkish commercial ships, which left from the Libyan port of Benghazi on Wednesday, are being escorted by a Turkish navy frigate, and the first one was expected to reach the Mediterranean port of Marmaris around midnight Wednesday, the Foreign Ministry said. Turkey dispatched another commercial ship to Libya early Wednesday. "The airport was mobbed, you wouldn't believe the number of people," Kathleen Burnett, of Baltimore, Ohio, said Tuesday as she stepped off an Austrian Airlines flight from Tripoli to Vienna. "It was total chaos."   
The U.S. State Department said it will begin evacuating American citizens from Libya by ferry to the Mediterranean island of Malta on Wednesday. The department said in a notice sent to U.S. citizens in Libya late Tuesday that Americans wishing to leave Libya in a government-chartered ferry should be at the As-shahab port in Tripoli with their passports starting at 9 a.m. local time Wednesday. The ferry will depart for Malta no later than 3 p.m. local time.   
Dutch Foreign Ministry spokesman Christoph Prommersberger said a Dutch KDC-10 air force transport plane left Tripoli late Tuesday with 32 Dutch evacuees and 50 other nationalities. "What we hear from our people is it is chaotic but functioning," he said of the Tripoli airport. At least two airlines, British Airways and Emirates, the Middle East's largest, said they were canceling flights to Tripoli, as reports spread that bodies of protesters littered the streets of neighborhoods in the capital. Britain said it was redeploying a warship, the HMS Cumberland, off the Libyan coast for a possible sea-borne evacuation of British citizens stuck in the north African country.  AP