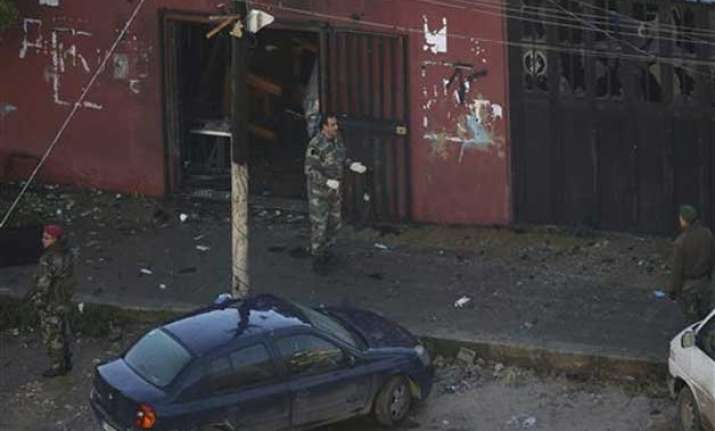 Jerusalem: At least two Israeli soldiers and a Spanish UN peacekeeper were killed and seven others injured when a missile fired by Lebanese Hezbollah group hit an army convoy today, prompting Prime Minister Benjamin Netanyahu to threaten a retaliation similar to the one carried out in Gaza last year.
Israel Defence Forces (IDF) Spokesman Brig Gen Moti Almoz said that an anti-tank missile fired from southern Lebanon struck an army vehicle traveling with other military vehicles.
In a statement, IDF said two soldiers were killed and seven others were lightly-to-moderately injured in the strike. Almoz ruled out the possibility of a kidnapping of any Israeli soldier amid such speculations in the media.
Israel then fired at least 50 artillery shells into Lebanon in a significant escalation along the volatile border.
A United Nations spokesman said a 36-year-old Spanish UNIFIL (United Nations Interim Forces in Lebanon) corporal was killed during IDF shelling in southern Lebanon.
The increase in violence raised fears of another all-out conflict between the bitter rivals, who fought a month-long war in 2006.
Hezbollah claimed responsibility for the attacks saying the "Quneitra Martyrs Brigade" carried out the attack, an apparent reference to the Israeli attack on Quneitra in Syria last week in which six Hezbollah fighters and one Iranian Revolutionary Guards general were killed.
In a statement, Hezbollah said its fighters destroyed a number of Israeli vehicles that were carrying Israeli officers and soldiers and caused casualties among "enemy ranks."
The anti-tank missile fired by Hezbollah was followed by mortar shells attack that were launched from Syria at IDF positions on Har Dov and the Hermon Mountain.
The Israeli army had to evacuate dozens of people from the northern Hermon Mountain. A home in the Israeli border town of Ghajar was damaged by a mortar shell.
"We view Hezbollah as responsible," Almoz said, adding, "This is not necessarily the end of the IDF's response".
Meanwhile, Netanyahu threatened Hezbollah saying Israel would inflict a "serious blow" on the group similar to the one it inflicted on Hamas in Gaza Strip during the war last year.
"At this moment, the IDF is responding to events in the North. I suggest that all those who are challenging us on our northern border, look at what happened in Gaza, not far from the city of Sderot," he said in the southern town of Sderot.
"Hamas suffered the most serious blow since it was founded this past summer and the IDF is prepared to act on every front," he stressed.
More than 2,200 Palestinians were killed, most of them civilians during the Gaza War last year which also claimed lives of 67 Israeli soldiers and five civilians.
The current flare-up is the most serious since the 2006 Israel-Lebanon war, which was sparked by a Hezbollah attack on an Israeli military vehicle along the border and the kidnapping and killing of two Israeli soldiers.