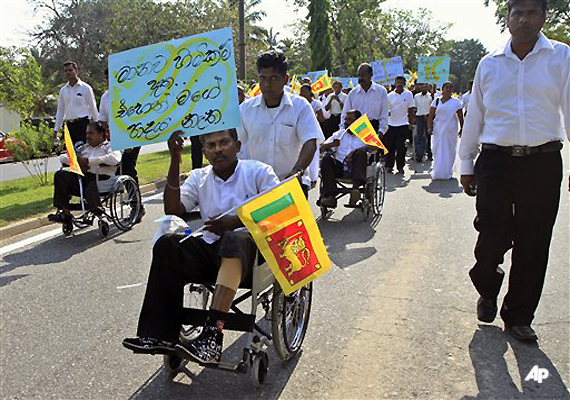 Colombo, Mar 23: In an apparent reference to India, Sri Lanka today said "certain domestic compulsions" had forced some of its neighbours and traditional friends to vote for the UNHRC resolution censuring Colombo for alleged human rights abuses during the final stages of the ethnic conflict.  
Slamming the US-sponsored resolution adopted yesterday by the 47-member UN Human Rights Council (UNHRC) in Geneva, Sri Lanka said it had countered the cardinal principle of international law.
With 24 votes for, 15 against and 8 abstentions, the UNHRC adopted the resolution which noted with concern that the Lessons Learnt and Reconciliation Commission (LLRC), an internal inquiry report in Sri Lanka, does not adequately address "serious allegations" of violations of international law during the final stages of the ethnic conflict between the Sri Lankan forces and the LTTE.
However, Acting Foreign Minister Dew Gunasekera told parliament that external mechanisms should be only resorted to when domestic remedies are exhausted.
"We are not surprised by the move of certain member states for their action against Sri Lanka," Gunasekera said, adding that same nations had attempted to provide a lifeline to the LTTE by forcing the ending of the military campaign.  
On India's backing of the US Gunasekera said: "We are mindful of certain domestic compulsions that forced some of our neighbours and traditional friends to act in the way they did".
"We will not under any circumstances allow others to impose on us their advice or solutions," he underlined.  
India had initially shown reluctance to vote on a nation-specific resolution but had to change its stand under severe pressure from political parties in Tamil Nadu, particularly DMK which had threatened to pull out its ministers from the UPA government at the Centre.