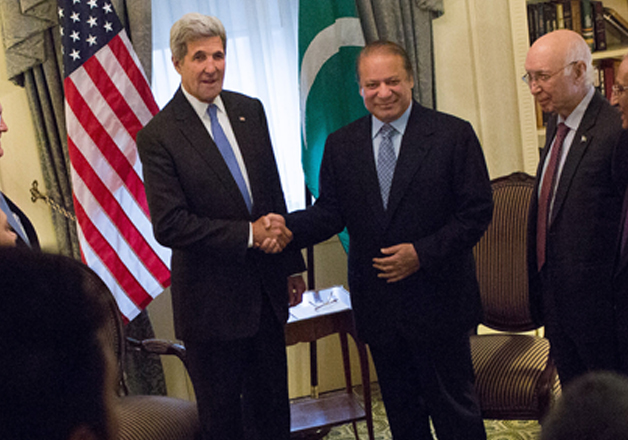 The US  will continue to press Pakistan to take "additional steps" to deal with terror groups seeking refuge within its borders, US state department deputy spokesperson Mark Toner said at a press briefing hours after Prime Minister Nawaz Sharif sought American help to resolve bilateral issues between India and Pakistan.
Sharif met US secretary of state John Kerry on Monday and raised the issue of alleged human rights violations and killings in Kashmir.
Sharif's meeting with Kerry was among his first bilateral meetings on the sidelines of the 71st session of the UN General Assembly and Kashmir featured prominently in the talks.
Toner told reporters at the briefing at the New York Foreign Press Centre that US-Pakistan was "obviously a very important relationship. "There's a lot on the bilateral agenda but also on the regional agenda," he said when asked about the Sharif- Kerry meeting.
He said the two sides are expected to discuss ongoing efforts by Pakistan at economic reform, "but certainly security will also be on the agenda, and we'll continue to urge Pakistan to take additional steps to deal with all of the terrorist threats that it faces on its own territory but also those groups that – frankly, that seek refuge or safe refuge within Pakistan's borders and how to deal with those groups in an effective way.
"We've seen some progress; we want to see more, and I think moving forward we'll just continue to work closely and try to encourage greater counterterrorism cooperation with Pakistan but also within the region," Toner said.
According to a readout of the meeting by the Pakistan mission, Sharif said: "I still remember President (Bill) Clinton's promise that US will play its role to help out in resolving bilateral disputes and issues between Pakistan and India."
"I expect US Administration and Secretary Kerry to use his good offices to help in resolving bilateral issues between Pakistan and India," he said.
In his meeting with British Prime Minister Theresa May, Sharif again raised the Kashmir issue and asked the British leader to play her role in convincing India to stop the use of force against the people in the region.
PTI inputs