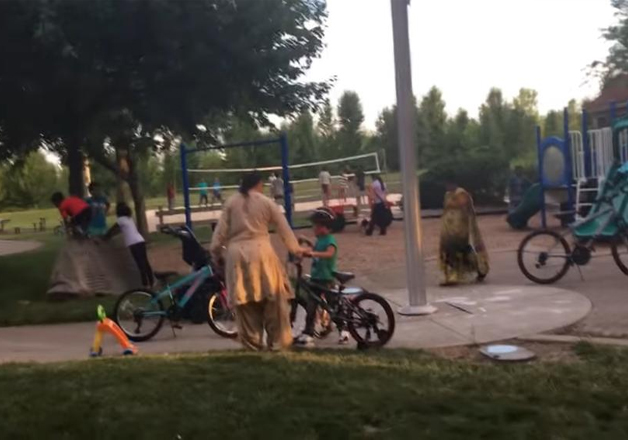 Days after the shooting of an Indian engineer and a businessman in two different cities, a new video has emerged on an anti-immigration site that shows Indian families relaxing in an Ohio park while a man accuses them of stealing American jobs.
The video -- titled 'Welcome to Columbus Ohio Suburbs -- Let's Take a Walk to Indian Park' was posted on SaveAmericanITJobs.com – run by 66-year-old Virginia-based computer programmer Steve Pushor.
The video has a running commentary showing men, women and children playing and relaxing in a public park. The description of the video reads 'Ohio's suburban park is occupied by rich Indians'.
"These Indians have to be clocking in at $$$150 - 200K plus in salary to live in this area. The clothes they are wearing, the cars in the parking lot, the expensive baby strollers, ALL pointed to BIG $$," the narrator said in the video, adding the Americans found it difficult to get IT Jobs.
"The number of people from foreign countries blows my mind out here. You see this whole area is all Indian, amazing. It's an amazing number of jobs have been taken away from Americans. The Indian crowd has ravished the Midwest. It's a takeover," the man said.
Pushor told Buzzfeed News that the immigrant visa-holders are a threat to the IT jobs.
"What we're trying to point out is people in Ohio, IT workers and other professional people, have lost their jobs to foreign guest workers. That's what our point is," he said.
The video has many Indian families worried. It comes after Hyderabad techie Srinivas Kuchibhotla was shot dead last month at a bar in Kansas city in a possible incident of hate crime.
Many people have reacted to the video, some calling it an attempt at starting a racial discord.
"As a citizen of this great nation I find this video against the fundamental American values of diversity and equality of all races," commented a user with a profile name Stem Mentor.
"As an American, I apologize for this man's behaviour!," commented another user.
During the entire video, the narrator has used words like "insane", "hell" and "mad" looking at footage of Indians in the post.
A fortnight ago, an Indian engineer, identified as Srinivas Kuchibhotla (32) was shot dead at a Kansas bar by a Navy veteran who shouted, 'get out of my country'. A week later, a 43-year-old Indian-origin store owner was shot dead outside his home in Lancaster County, South Carolina.
With IANS Inputs