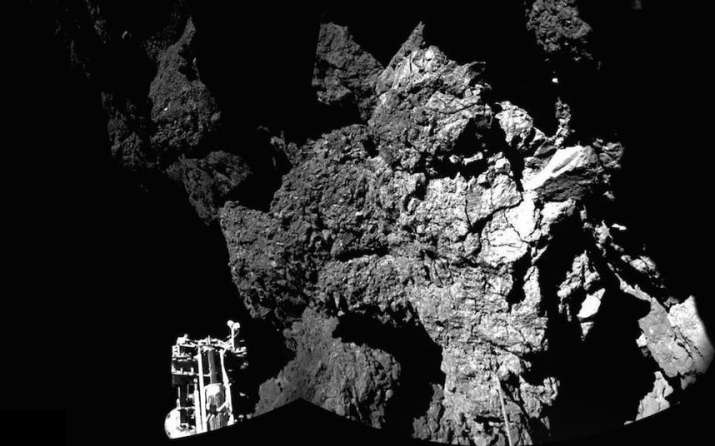 The European Space Agency is in the process of making final preparations to crash its Rosetta spacecraft that began its probe in 2014 into a comet.
Rosetta arrived at Comet 67P/Churyumov-Gerasimenko on August 6, 2014, after a 10-year journey through the solar system since its launch on March 2, 2004. The Rosetta mission will finally come to an end on Friday, September 30.
Its Philae lander was sent down to the surface of the comet on November 12, 2014. The mission will end with a controlled descent to the Comet 67P/Churyumov-Gerasimenko's surface.
Rosetta has served scientists well, through a wealth of information that it sent during its closest approach to the Sun.
After two years of living with the comet, sending back an unprecedented wealth of information during its closest approach to the Sun, Rosetta and the comet are now heading out beyond the orbit of Jupiter again.
Travelling further from the Sun than ever before, and faced with a significant reduction in solar power that it needs to operate, Rosetta's destiny has been set - it will follow Philae down onto the surface of the comet, the European Space Agency said in a statement.
A confirmation of the end of the mission is expected from space agency's main control room at 11:20 GMT on September 30, with the spacecraft set on a collision course with the comet the evening before.
The final hours of descent will enable Rosetta to make many once-in-a-lifetime measurements, including analysing gas and dust closer to the surface than ever possible before, and taking very high resolution images of the comet nucleus, including the open pits of the Ma'at region, where the spacecraft is expected to make its controlled impact, the space agency said.
These data should be returned during the descent up to the moment of final impact, after which communication with the spacecraft will not be possible.
Rosetta's Grain Impact Analyser and Dust Accumulator (GIADA) has detected and measured the properties of some 6650 comet dust particles.
"GIADA has been on since May 2014, and we caught the first dust grain on 1 August 2014. The first love is never forgotten!" GIADA Principal Investigator Alessandra Rotundi wrote on Monday in a blog post on the European Space Agency website.
"Since then GIADA has collected 6650 dust particles," she added.
"Of course, we are also looking forward to the end of mission descent, where we hope to collect even more interesting data," Rotundi wrote.
Rosetta has contributions from NASA.
Science and space enthusiasts can check out the coverage on NASA TV.
(With agency inputs)