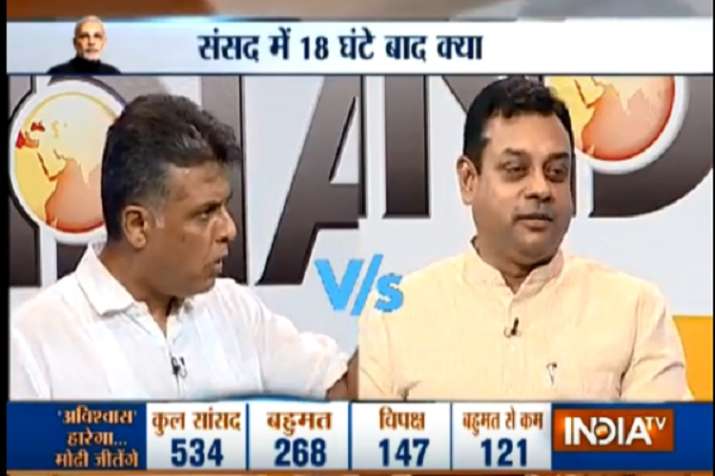 It is very rare that a  television debate has led to so much research. Well, a debate on India TV show 'Kurukshetra' aired on July 19, just a day before the no-confidence debate against Modi government in Lok Sabha led to an indepth research.
In the show, Congress spokesperson Manish Tewari reiterated Congress President Rahul Gandhi's remark that the 'the person who started Coca-Cola was a 'shikanji' (lemonade) seller'. The Congress president said a similar thing about McDonald's, that its founder was running a dhaba (roadside restaurant).  To prove his statement, Manish Tewari even tweeted an image of the original Coco Cola/ Lemonade push carts.
For all those Bakht Trolls & Lemmings curious to know what the original Coco Cola/Lemonade ( Shakanjavi) Push Carts looks like here is an image. It would be hitched to a bike & taken around.U can see the push cart and other vintage artefacts in the Coco-Cola Museum.TAKE THE TRIP pic.twitter.com/GMINK2MCrR

— Manish Tewari (@ManishTewari) July 20, 2018
Well , an Atlanta resident Rakesh Shah, who has been living in the city for more than twenty years decided to do a detailed research on this matter. He found out that John Pemberton, founder of Coca Cola a  pharmacist and not a lemonade seller.  BJP spokesperson Sambit Patra tweeted the video to prove Congress wrong.
OMG ..I never thought a debate can lead to this amount of research ..Thanks Dr RAKESH for your tour ..https://t.co/cDfpgAsyQg via @YouTube

— Sambit Patra (@sambitswaraj) July 24, 2018
WATCH: Aaj Ka Viral- What's the truth behind Rahul Gandhi's 'shikanji wala' comment?