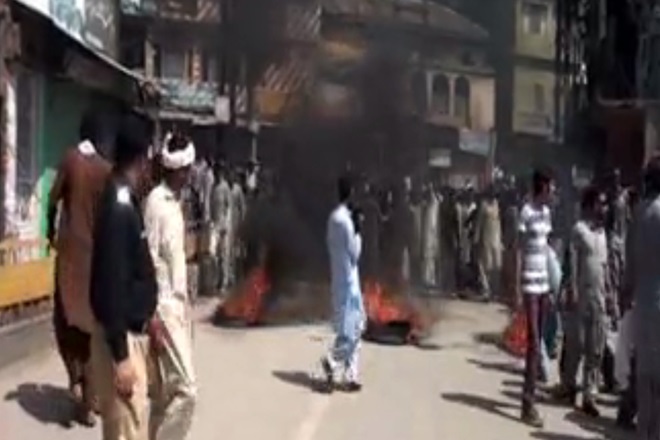 Violent protests have erupted all across Pakistan-occupied Kashmir against the perceived rigging in the recently concluded Assembly elections in the state.
Angry residents have taken to the streets to register their protest and there are reports of the crowd burning tyres and damaging public property at many places including Muzaffarabad, Kotali, Chinari and Mirpur.
Reports emerging from PoK reveal that protestors are blocking traffic at many places besides clashing with police.  
In a knee-jerk reaction, the PoK administration has reportedly moved to clamp down on press reporting.
In the July 21 Assembly elections, Nawaz Sharif's Pakistan Muslim League-Nawaz (PML-N) swept the state with victories in a massive  32 out of 41 seats, capturing more than seventy five percent of the seats.  
The residents of PoK are alleging that genuine voters were not allowed to cast their votes and Pakistan's Inter-Services Intelligence (ISI) agency in collusion with other state agencies rigged the polls in favour of Prime Minister Nawaz Sharif's PML (N).  
"There was rigging in the elections and huge money was distributed to buy the votes. In the Mirpur area, there were many such cases of buying of votes," barrister Sultan Mehmood Chaudhary, Former PoK Prime Minister and Muslim Conference leader told The Financial Express.
According to media reports, the Pakistan Human Rights Group has also confirmed allegations of corrupt practices, involving money and muscle power.