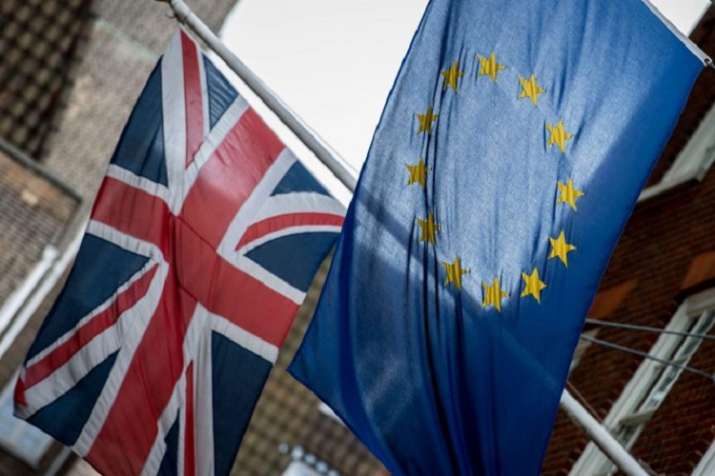 The official group that campaigned for Brexit was fined 61,000 pounds on Tuesday for breaking spending limits in the 2016 EU membership referendum and the case has been reported to Scotland Yard, reported the UK's Electoral Commission. 
Vote Leave, which proved victorious at the end of its campaign with 51.9 per cent voting for Brexit as against 48.1 per cent to Remain, was found guilty of funnelling cash with the help of a smaller pro-Brexit group called 'BeLeave' to get around campaign finance rules. 
Darren Grimes, the founder of 'BeLeave' has been fined 20,000 pounds and reported to the Metropolitan Police, along with 'Vote Leave' official David Halsall. 
The UK, on June 23, 2016, had voted in favour of leaving the 28-member European Union. It is scheduled to quit the bloc on March 29, 2019. 
"The Electoral Commission has followed the evidence and conducted a thorough investigation into spending and campaigning carried out by 'Vote Leave' and 'BeLeave'," said Bob Posner, the commission's director of political finance and regulation. 
"We found substantial evidence that the two groups worked to a common plan, did not declare their joint working and did not adhere to the legal spending limits," he said. 
However, the findings of the Electoral Commission do not provide a legal basis to overturn the referendum results. 
'Vote Leave' and the official Remain campaign group, 'Britain Stronger in Europe', were allowed to spend 7 million pounds each on campaigning in the run up to the referendum on June 23, 2016. 
'Vote Leave' exceeded its legal spending limit by almost 500,000 pounds, the election watchdog found. 
It concluded that spending carried out through smaller campaign groups towards companies like Canadian digital marketing firm Aggregate IQ were under the direction of 'Vote Leave' but not declared. 
"These are serious breaches of the laws put in place by Parliament to ensure fairness and transparency at elections and referendums," said Posner. 
'Vote Leave' also returned an "incomplete and inaccurate spending report", with almost 234,501 pounds reported incorrectly, and invoices missing for 12,849.99 pounds of spending, the watchdog said. 
'Vote Leave' has said it was considering its options because the investigation's findings were "wholly inaccurate" and claimed they were politically motivated. 
A 'Vote Leave' spokesperson said: "The Electoral Commission's report contains a number of false accusations and incorrect assertions that are wholly inaccurate and do not stand up to scrutiny. 
"It is astonishing that nobody from 'Vote Leave' has been interviewed by the commission in the production of this report, nor indeed at any point in the past two years. Yet the commission has interviewed the so-called 'whistleblowers' who have no knowledge of how 'Vote Leave' operated and whose credibility has been seriously called into question." 
The group, led by Brexiteers like former UK foreign secretary Boris Johnson and environment minister Michael Gove, said it had provided evidence to the Electoral Commission proving there was no wrongdoing and claimed that despite "clear evidence of wrongdoing by the Remain campaign", the commission has chosen to ignore this and refused to launch an investigation.
 
"All this suggests that the supposedly impartial commission is motivated by a political agenda rather than uncovering the facts," the 'Vote Leave' spokesperson said. 
Another pro-Brexit group, 'Veterans for Britain', was also found to have inaccurately reported a donation it received from 'Vote Leave' and has been fined 250 pounds. 
A separate Brexit campaign fronted by then far-right UKIP leader Nigel Farage, 'Leave.EU', was fined 70,000 pounds in March for failing to declare "at least" 77,380 pounds it spent on referendum campaigning. 
'Leave.EU' chief executive Liz Bilney was referred to the police following the commission's investigation. 
'Leave.EU' co-founder Arron Banks called it a "politically motivated attack" and said he would take the watchdog to court. 
The Remain group, 'Britain Stronger in Europe', was fined 1,250 pounds in December last year for not providing invoices and for declaring some spending in aggregate rather than individual payments.