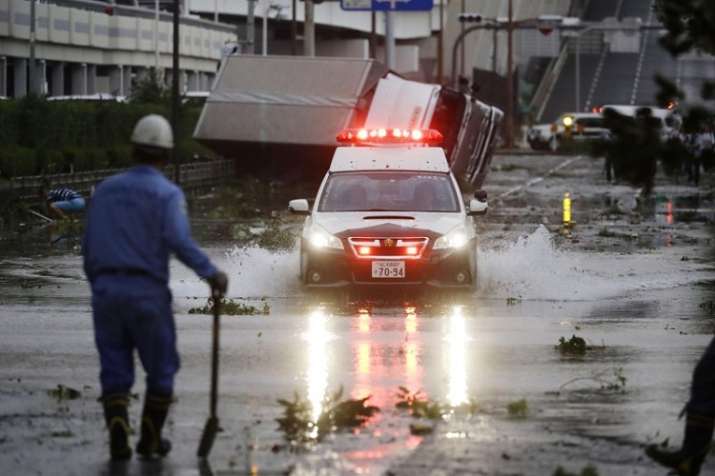 Japan woke up to a deadly Tuesday as typhoon Jebi, the strongest to hit the country in 25 years made its landfall in its western part killing at least 8 people and injuring more than 200.
The magnitude of the storm was  such huge as it caused trucks to overturn on bridges and even swept a tanker anchored in Osaka Bay into a bridge to Kansai International Airport. The high waves whipped up by the storm also flooded parts of the seaside airport causing cancellation of all the flights. Severe weather conditions also caused power outages and travel chaos across much of the country. The typhoon also went on to damage cars, buildings, infrastructure and transportation systems.
Typhoon Jebi made landfall around noon time on Tuesday, slamming into the west of the country packing winds of up to 135 miles per hour. The Japan Meteorological Agency (JMA) said that after making landfall in Tokushima Prefecture, the typhoon passed near Kobe and moved into the Sea of Japan.
Numerous flights, accounting to more than 800, including several international flights departing and arriving at Nagoya and Osaka, train services and highways were closed in the Kinki region and beyond, and shops, factories and other facilities, particularly in western Japan were closed, including the popular Universal Studios attraction in Osaka prefecture.
The powerful typhoon forced Kansai International Airport in western Japan to halt operations as high waves caused by the typhoon inundated the airport.
Winds of up to 209 kmph were logged at the airport on Tuesday afternoon and 3,000 people were stranded due to the floods there, authorities said.
More than 700 flights have been cancelled by domestic airlines with Japan's top two carriers, All Nippon Airways Co. and Japan Airlines Co. cancelling more than 500 flights between them.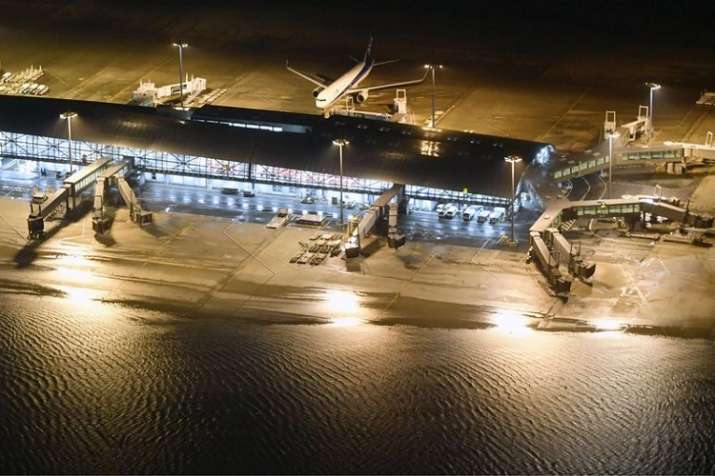 The Tokaido Shinkansen and Sanyo Shinkansen bullet train lines had some services suspended by railway operators and parts of major highways have also been closed, the transport ministry said.
According to the Japan Coast Guard, powerful gusts of winds blew a tanker into a bridge that connects the airport with Izumisano City.
A number of high-sided trucks in western Japan were tipped over on a highway by the powerful winds, police said.
Power outages affected around 1.61 million households in the Kansai region and 95,000 in Shikoku. The blackouts were caused by the torrential rain, officials said.
A number of historical and cultural assets and artefacts were damaged as a result of the powerful winds, with temples in Kyoto, Nara and Shiga all suffering damage, according to media reports.
Typhoon Jebi was travelling at a speed of 75 kmph over the sea off Sado Island, and packing winds of up to 180 kmph, JMA said.
The typhoon is forecast to hit west Hokkaido, although other northerly regions are bracing for impact, with Aomori Prefecture setting up evacuation centres at six different locations, according to media reports.
Japanese Prime Minister Shinzo Abe was due to visit southwestern prefectures on Tuesday, but his plans were cancelled due to the severity of the typhoon. Abe has urged people to evacuate early and ordered his government to take all necessary measures to protect residents, after the weather agency warned of landslides, flooding and violent winds, as well as high tides, lightning and tornadoes.
Authorities have warned that the wind was strong enough  topple traditional-style wooden houses as well as power poles, and urged people in affected areas to avoid non-essential travel.
According to the JMA, up to 500 mm of rain is forecast to fall in central Japan and up to 400 mm in western Japan in the 24-hour period through 6 am (Japan time) on Wednesday.
An officials of JMA was quoted as saying that the typhoon has been categorized as "very strong" and based on the strength of its top winds, would be the strongest typhoon to make landfall in Japan since 1993.
According to JMA, typhoon Jebi is expected to cross the Sea of Japan on Tuesday night and gradually weaken to an extratropical cyclone on Wednesday.
WATCH VIDEO: