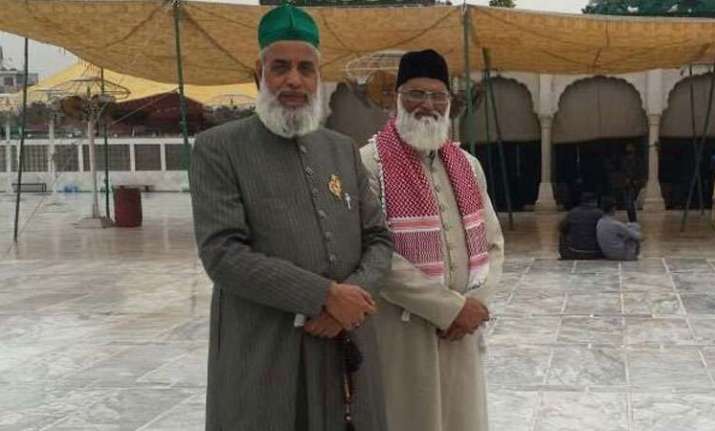 The two Indian Sufi clerics, including the head priest of Delhi's Hazrat Nizamuddin Dargah, who returned to India after having gone 'missing' during their visit to Pakistan, today said that they were detained for questioning by the law enforcement agencies of Pakistan after a media report in Pakistan portrayed them as agents of the Research and Analysis Wing (R&AW) and Muttahida Qaumi Movement (MQM) movement. 
A report in Pakistani newspaper 'Ummat' claimed that the clerics worked for RAW and the MQM movement, eventually leading to the whole fiasco.
There is a newspaper Ummat (in Pakistan) which has printed false statements (of the two clerics being RAW spies) and photos: Nazim Nizami pic.twitter.com/bFM87q5YOp

— ANI (@ANI) March 20, 2017
Syed Asif Nizami, and Nazim Ali Nizami returned to India this morning and met External Affairs minister Sushma Swaraj later in the afternoon.
Delhi: EAM Sushma Swaraj met the two Sufi clerics, Syed Asif Nizami and Nazim Ali Nizami who had gone missing in Pakistan. pic.twitter.com/LO6GD8ByEc

— ANI (@ANI) March 20, 2017
Sajid Nizami, the son of Asif Nizami, admitted that they were in fact held up for questioning on the basis of these reports. 
Yes, they had been detained in Pakistan after some media reports: Sajid Nizami, son of Asif Nizami pic.twitter.com/woDN3B7O2f

— ANI (@ANI) March 20, 2017
The two clerics are also expected to meet the intelligence agencies who want to ascertain more details on how they went missing. 
Upion their arrival in Delhi, the two priests first visited the Hazrat Nizamuddin Dargah to seek blessings before meeting their family members.
"I would like to thank the Indian Government, Prime Minister Narendra Modi, Sushma Sawarj and Rajnath Singh. We are very happy that our government made their efforts in helping them to return," Nizami told ANI.
Yesterday, Sushma Swaraj had said that the two Indian sufi clerics are safe and will be back in the city on Monday. 
"I just spoke to Syed Nazim Ali Nizami in Karachi. He told me that they are safe and will be back in Delhi tomorrow," Swaraj had tweeted yesterday. 
The two clerics - Syed Asif Nizami, the head priest (Sajjadanashin) of Hazrat Nizamuddin Aulia Dargah, and his nephew Nazim Ali Nizami, had gone to Lahore on March 8 and were to return to India on March 20.
The main purpose of the visit of 80-year-old Asif to Pakistan was to see his sister in Karachi. They arrived in Lahore on March 13 but went missing two days ago and were untracebale.
On Saturday, Pakistan had conveyed to India that the clerics were traced and reached Karachi last evening. 
Swaraj had taken up the issue with Pakistan Prime Minister's Adviser on Foreign Affairs, Sartaj Aziz yesterday and requested him to trace the missing clerics. 
According to Pakistani media reports, both clerics had been in "interior Sindh where there was no communication network" and that is why they could not inform their relatives about their whereabouts. 
Earlier, Pakistani sources had said the two clerics were in the custody of Pakistan's intelligence agency over their alleged links with the Muttahida Qaumi Movement (MQM). 
They were offloaded from Karachi-bound Shaheen Airlines on March 14 at the Allama Iqbal International Airport, Lahore, the Pakistani sources had said.