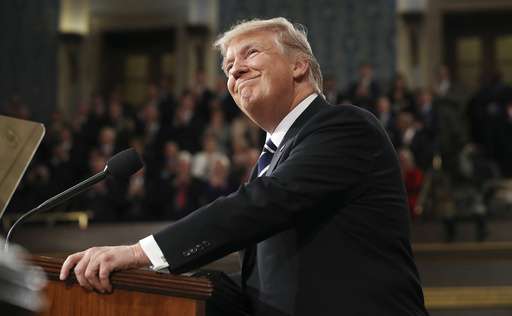 In a development that could come as a huge breather for high-tech professionals from countries like India, US President Donald Trump today softened his stand on the issue of immigration, instead mooting a system that allowed immigration based on merit.
The revised stand is a modification to his hard-line campaign rhetoric with a promise to revive the 'American spirit'.
In his first address to the US Congress after assuming power, Trump noted that "nations around the world, like Canada, Australia and many others have a merit-based immigration system".
He said that such a system will save countless dollars and raise workers' wages.
"Switching away from this current system of lower-skilled immigration, and instead adopting a merit-based system, will have many benefits: it will save countless dollars, raise workers' wages, and help struggling families –- including immigrant families –- enter the middle class," Trump said in his hour-long State of the Union-style address.
Trump's new intent should come as a huge relief for Indian IT professionals who account for the largest number of foreign nationals coming to the US on H-1B visas. Indians going to the US constitute most foreign workers coming to the US as scientists, doctors, engineers and other highly-skilled professionals.
During his presidential campaign, Trump had promised to increase oversight of our H-1B and L-1 visa programmes that are used widely by Indian tech companies.
The H1B visa is a non-immigrant visa that allows American firms to employ foreign workers in occupations that require theoretical or technical expertise. The technology companies depend on it to hire tens of thousands of employees each year.
Trump, 70, said in his address that he was going to bring back millions of jobs.
"Protecting our workers also means reforming our system of legal immigration. The current, outdated system depresses wages for our poorest workers, and puts great pressure on taxpayers," he said.
Trump, who had signaled earlier that he was open to immigration reform, said that real reform was possible if the intended result was to improve jobs and wages for Americans to strengthen the country's security and to restore respect for laws.
In a rare speech where he refrained from attacking political opponents and the media, Trump said that working for solutions to problems such as these would require working past party differences
Trump during his campaign promised measures like cracking down on undocumented immigrants, restricting travel to the US to stop immigrants entering the country, drawing a sharp reaction from fellow lawmakers and countrymen.
In his address, Trump also said that he has inherited a very bad economy and that his focus would be on making it easier for businesses to work in America, besides lowering their taxes.
He has also hinted at a significant rise in spending on defence and veterans.
(With PTI inputs)