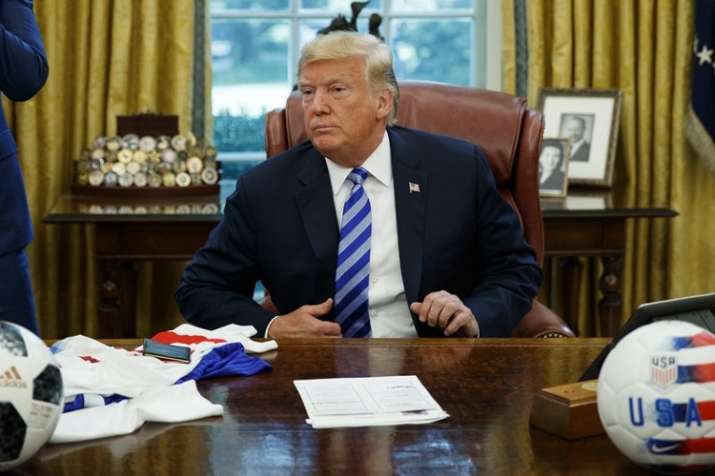 US President Donald Trump on Tuesday accused Google, along with several other tech companies in the country of rigging search results about him 'so that almost all stories and news is bad'.
"I think Google has really taken advantage of a lot of people, and I think that's a very serious thing. That's a very serious charge," Trump said, adding that Google, Twitter, Facebook and others "better be careful, because you can't do that to people."
Though the US president did not offer any evidences for his allegations, a top advisor however said the White House is "taking a look" at whether Google should face federal regulation.
Trump took to Twitter on Tuesday and rehashed his recent complaints over alleged suppression of conservative voices and positive news about him.
"We have literally thousands and thousands of complaints coming in. So I think that Google and Twitter and Facebook, they're really treading on very, very troubled territory and they have to be careful," the US president said.
The president's tweets echoed his familiar attacks on the news media and a conservative talking point, claiming that California-based tech companies run by CEOs with liberal leanings don't give equal weight to opposing political viewpoints.
Trump's top economic advisor Larry Kudlow later told reporters that the White House is "taking a look" at whether Google searches should be subject to some government regulation.
In its response to the allegations made by the US president, Google pushed back sharply and said, "we never rank search results to manipulate political sentiment".
Based in California's Mountain View, Google said its aim is to ensure its search engine users quickly get the most relevant answers.
"Search is not used to set a political agenda and we don't bias our results toward any political ideology," the company said in a statement.
"Every year, we issue hundreds of improvements to our algorithms to ensure they surface high-quality content in response to users' queries. We continually work to improve Google Search and we never rank search results to manipulate political sentiment," he added.
Trump and some supporters have long accused Silicon Valley companies of being biased against them. While some company executives may lean liberal, they have long asserted that their products are without political bias.
Trump began complaining about the issue earlier this month as social media companies moved to ban right-wing "Infowars" conspiracy theorist Alex Jones from their platforms.
The president also claims that the news media avoids writing positive stories about him and his administration.