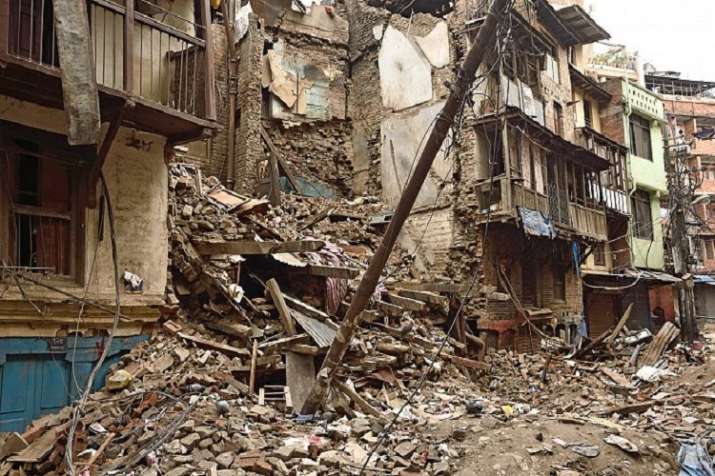 A powerful tsunami  hit two central Indonesian cities killing over 380 people and sweeping away buildings on Saturday. The tsunami was triggered by a strong quake measuring 7.5 magnitude in Richter scale that brought down several buildings and sent locals fleeing their homes for higher ground. However, the fate of hunderds of people are still unknown.
This was one of the deadliest natural disaster to hit the country since the August 5 earthquake that hit the island of Lombok that killed over 500 people. Another series of strong quakes in mid-August killed at least a dozen on Lombok and neighboring Sumbawa island.
In December 2004, a massive magnitude 9.1 earthquake off Sumatra in western Indonesia triggered a tsunami that killed 230,000 people in a dozen countries.
Let's look at some of the deadliest earthquakes that rattled the world in the past one decade
1. IRAN (NOVEMBER 13, 2017)
More than 400 people were killed and at least 6,600 injured in Iran when a magnitude 7.3 earthquake hit the country, state media said on Monday. At least six have died in Iraq as well.
2. MEXICO (SEPTEMBER 19, 2017)
A 7.1 magnitude quake struck central Mexico, killing at least 369 people, causing more devastation in the capital than any since the 1985 earthquake that killed thousands.
3. ITALY (AUGUST 24, 2016)
A 6.2 magnitude quake hit a cluster of mountain communities 140 km (85 miles) east of Rome in central Italy, killing about 300 people.
4. ECUADOR (APRIL 16, 2016)
A devastating magnitude 7.8 earthquake smashed Ecuador, killing more than 650 people along the country's ravaged Pacific coast.
5. AFGHANISTAN (OCTOBER 26, 2015)
A magnitude 7.8 earthquake rocked the Afghan northeast, killing nearly 400 people in Afghanistan and nearby northern Pakistan.
6. NEPAL (APRIL 25, 2015)
A magnitude 7.8 earthquake ravaged Nepal, killing nearly 9,000 people and disrupting the lives of more than eight million people.
7. CHINA (AUGUST 3, 2014)
A magnitude 6.3 earthquake devastated southwestern China, killing at least 600 people in a remote area of Yunnan province.
8. PAKISTAN (SEPTEMBER 24, 2013)
Twin earthquakes, measuring 7.7 and 6.8 magnitude, struck Pakistan's southwestern Balochistan province, killing at least 825 people.
9. TURKEY ( OCTOBER 23, 2011)
A powerful magnitude 7.2 earthquake shook southeast Turkey, killing more than 600 people
10. JAPAN (MARCH 11, 2014)
A 9.0 magnitude earthquake and tsunami struck Japan's northeast, killing about 15,690 people and injuring 5,700. The earthquake also triggered the world's biggest nuclear disaster since Chernobyl in 1986.