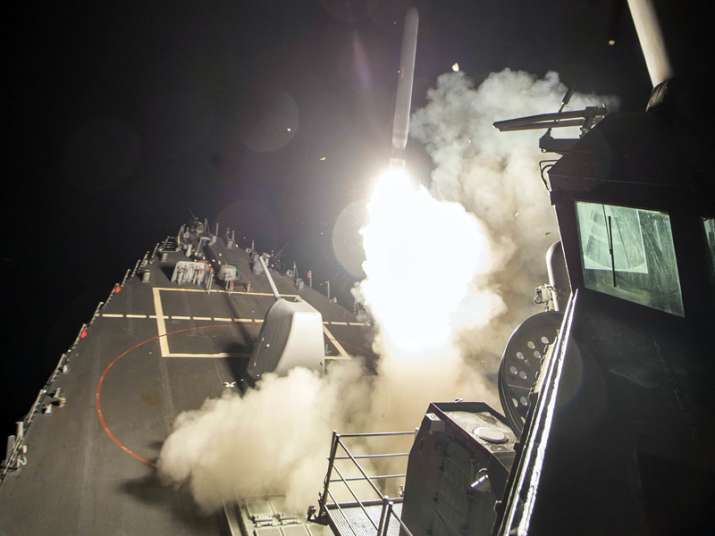 Syria decried the US missile attack early on Friday morning on a government-controlled air base, calling it an 'aggression' that led to 'losses'.
Rebels, however, welcomed the US attack which Washington said was retaliation to the Syrian military's deadly chemical attack earlier this week.
A military official quoted on Syrian TV said that an air base in central Syria was hit early Friday, causing material damage. 
Another statement, also attributed to an unnamed official, referred to "losses." The officials did not elaborate. 
Talal Barazi, the Governor of Homs province, where the targeted air base is located, said that most of the strikes appeared to target the province in central Syria. 
He also said the strikes were meant to "support the terrorists on the ground." He told Al Arabiya TV that a fire raged for two hours in the base, until it was put out. 
About 60 US Tomahawk missiles hit the Shayrat air base, southeast of Homs, a small installation with two runways, where aircraft often take off to bomb targets in northern and central Syria. The US missiles hit at 3:45 a.m. today and targeted the base's airstrips, hangars, control tower and ammunition areas, US officials said. 
They were fired from two warships in the Mediterranean Sea, in retaliation for Tuesday's deadly chemical attack that officials said used chlorine mixed with a nerve agent, possibly sarin. 
On the other hand, a Syrian opposition group, the Syrian Coalition, welcomed the US attack, saying it puts an end to an age of "impunity" and should be just the beginning. 
Major Jamil al-Saleh, a US-backed rebel commander whose Hama district in the country's center was struck by the suspected chemical weapons attack, said he hoped the US attack on a government air base would be a "turning point" in the six-year war. 
The bombing represents Trump's most dramatic military order since taking office. The Obama administration threatened attacking Assad's forces for previous chemical weapons attacks, but never followed through. Trump called on "all civilized nations" to join the US in seeking an end to the carnage in Syria. 
President Bashar Assad's government had been under mounting international pressure after the chemical attack in northern Syria, with even key ally Russia saying its support is not unconditional and the US launching a barrage of cruise missiles at a government-controlled air base in Syria. 
Turkey, meanwhile, said samples from victims of Tuesday's attack, which killed more than 80 people in the town of Khan Sheikhoun, indicate they were exposed to sarin, a highly toxic nerve agent. 
Syria rejected the accusations, and Moscow had warned against apportioning blame until an investigation has been carried out.
With AP Inputs