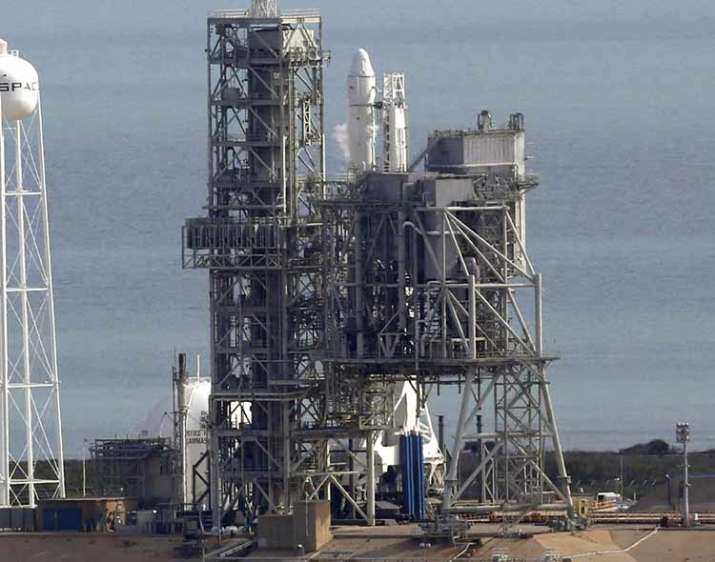 A last-minute rocket trouble forced SpaceX to abort its planned Dragon cargo launch to the International Space Station from NASA's historic moon pad.
SpaceX halted the countdown with just 13 seconds remaining due to a "slightly odd" technical issue with the Falcon 9 rocket engine. The second-stage steering issue actually cropped up several minutes earlier. But with just an instant to get the unmanned Falcon rocket airborne, flight controllers could not resolve the problem in time.
A SpaceX spokesman said the delay was made "out of an abundance of caution" and came a day after engineers discovered a small helium leak in the engine's second stage. 
"All systems go, except the movement trace of an upper stage engine steering hydraulic piston was slightly odd. Standing down to investigate," SpaceX chief executive officer Elon Musk tweeted shortly after the launch was postponed. 
"If this is the only issue, flight would be fine, but need to make sure that it isn't symptomatic of a more significant upstream root cause," he added.
He further said, "Btw, 99% likely to be fine (closed loop TVC wd overcome error), but that 1% chance isn't worth rolling the dice. Better to wait a day."
Musk said engineers want to make certain the "slightly odd" position of an engine piston isn't representative of bigger trouble. It's not out of the question that Saturday's problem is somehow related to the minor upper-stage helium leak detected the day before, he reported.
The next launch attempt — provided everything can be fixed quickly — would be Sunday morning.
The Falcon remains at Kennedy Space Center's Launch Complex 39A, waiting to soar on a space station delivery mission. It's the same pad where Americans flew to the moon almost a half-century ago.
Up at the International Space Station, French astronaut Thomas Pesquet had a light-hearted take on the delay.
"Looks like I'll have to wait one more day to get my French cheese ;)" Pesquet wrote via Twitter. He added: "We need all your cargo for @ISS_Research!"
Thousands of guests had jammed the space center to witness the comeback of 39A, last used in 2011 for the final space shuttle flight. Disappointment was high when the urgent call of "hold, hold, hold!" sounded over the radio lines.
This will be SpaceX's first Florida launch since a rocket explosion last summer.
The September 1 accident occurred during prelaunch testing at a neighboring pad. SpaceX turned to Launch Complex 39A — which it leases from NASA — to resume flights. The company hopes to launch astronauts from 39A next year.
Russia, meanwhile, plans to launch a supply ship to the International Space Station on Wednesday. If the SpaceX mission doesn't get going soon, it would likely have to get in line behind the Russian delivery.
(With AP inputs)