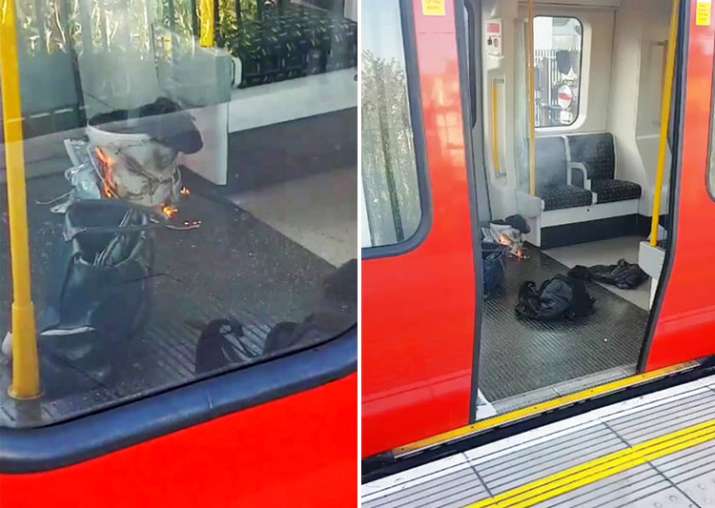 In yet another terror attack in the United Kingdom, around 20 people were injured after an explosion occurred on an underground train at Parsons Green station in London. The UK has witnessed five terror attacks till date this year and at least 36 people have lost their lives in these incidents. That the UK has become vulnerable to terror attacks gets credence from the data released by the UK Home Office which says that the country witnessed a record 68 per cent rise in the number of people arrested for terrorism-linked offences in the year 2017. The terrorists are increasingly targeting the United Kingdom forcing  Prime Minister Theresa May to warn that there has been "far too much tolerance of extremism" in the UK. She  promised to step up the fight against Islamist terrorism after the London Bridge attack, saying "enough is enough". However, the terror attacks are taking place in the country at regular intervals.
Let's have a look at all these five attacks that took place in the year 2017:
1. London Parsons Green Tube Terror Attack (15 September 2017)
Around 20 people were injured after an explosion occurred on an underground train at Parsons Green station in London. Describing the attack as  a "terrorist incident", the Scotland Yard claimed that the explosion was caused by an Improvised Explosive Device (IED). However, no loss of life was reported in this incident. According to police, today's explosion was caused by a homemade bomb, likened to pressure cooker devices used in 2013's Boston Marathon attack, which did not fully detonate.
2. Finsbury Park Van Attack (19 June 2017)
At least eight people were injured when a van ran over pedestrians in Finsbury Park, London which was around 100 yards from Finsbury Park Mosque. One person was killed in this incident although it emerged later on that he had earlier collapsed and was receiving first aid at the spot.
3. London Bridge Attack (3 June 2017)
8 people including 4 unarmed police officers were killed and 48 others were injured when  a van left the road and ran over a number of pedestrians on the world famous London Bridge. After the van crashed, the  three attackers who were occupying the vehicle ran to the nearby Borough Market area and began stabbing people in and around restaurants and pubs. These attackers were wearing fake explosive vests and all of them were later shot dead by the police.
4. Manchester Arena Bombing (22 May 2017)
22 people were killed and 250 others were injured when a shrapnel-laden homemade bomb was detonated as people were leaving Manchester Arena following a concert by the American singer Ariana Grande that was part of her 2017 Dangerous Woman Tour. The police declared it a terror attack and later disclosed that the bomber, Salman Ramadan Abedi, was a 22-year-old British Sunni Muslim of Libyan ancestry. The police said that Abedi had largely acted alone but added that some others were aware of his plans.
5. Westminster Attack (22 March 2017)
5 people were killed and more than 50 others were injured in this attack that was carried out by  52-year-old Briton named Khalid Masood. Masood  drove a car over pedestrians on the pavement along the south side of Westminster Bridge and Bridge Street in the vicinity of the Palace of Westminster, seat of the British Parliament which led to the death of four people.  After that, Masood crashed his hired Hyundai SUV into the railings in front of Parliament Yard before bursting through the gate to the Palace of Westminster with two large knives where he fatally stabbed 48-year-old unarmed Pc Keith Palmer. Masood was shot dead moments later by a close protection officer attached to Defence Secretary Sir Michael Fallon.
After today's attack, Prime Minister Theresa May once again expressed her resolve to defeat nefarious designs of terrorists. She is scheduled to chair an emergency meeting of Cobra this afternoon, where it is believed she will discuss raising the threat level from severe to critical.
According to Richard Walton, former Head of Counter Terrorism Command at New Scotland Yard, prior to today's London Parsons Green Tube attack which is the 5th terror attack in UK this year, 6 other planned terror attacks were foiled. He also added that an unprecedented number of 379 arrests were made in terror-related cases this year out of which 105 were charged and 32 of them were finally convicted.
"5th UK terror attack in 2017 - 6 other terror plots stopped - 379 arrests -105 charged - 32 convicted- unprecedented," Richard Walton tweeted.
5th UK terror attack in 2017 - 6 other terror plots stopped - 379 arrests -105 charged - 32 convicted- unprecedented.

— Richard Walton (@RichardWalton20) September 15, 2017