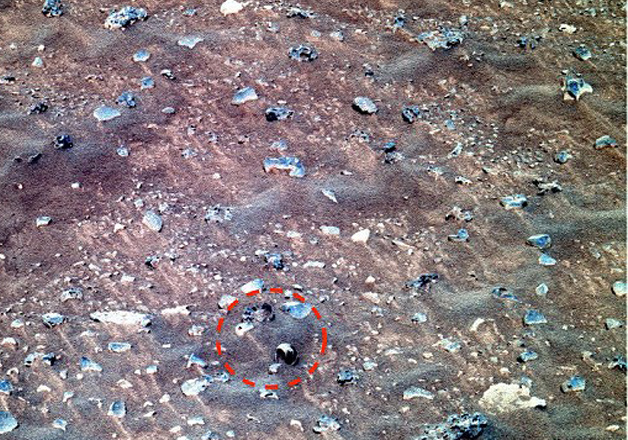 Alien hunters believe that there was a primitive ocean on Mars that had more water than the Arctic Sea. A broken seashell spotted on the surface further indicates that life once inhabited the ancient sea. 
According to a Daily Mail report, Scott C Waring, editor of ufosightingsdaily.com claims to have found a round broken seashell that could be 'evdence of Mars having an ocean with living creatures'. 
The round broken seashell found in the dust of the Gusev crater is the second this week. Few days back, researchers found fossilized fish in the dust, confirming that life did exist on the red planet. 
"I found this shell back in 2012 in Gusev crater in a false color Nasa photo, but came across it again this week but in an all new photo I have never seen before," Martian researcher Scott C Waring was quoted by Daily Mail as saying. 
"The shell is round and the top of the shell was thinner so its been broken away, but the ouster rim still exists. The evidence of Mars having a ocean with living creatures grows," he further added. 
According to NASA, the Gusev crater is actually a former huge lake bed that would have housed briney water. 
Waring also shared the photograph he captured in 2012 and it shows that the seashell has not moved from its place since then. 
Meanewhile, scientists assert that the findings by Waring are actually the results of pareidolia combined with an over-active imagination. 
Pareidolia is when the brain tricks the eyes into seeing familiar shapes or objects in textures or patterns such as clouds or a rock surface.
 
Scott C Waring, paranormal investigator and editor of UFO Sightings Daily, if often accused for making outlandish claims of evidence of alien life on the Red Planet in NASA pictures, including buildings, statues and even tiny humanoids, which are later dismissed as optical illusions.