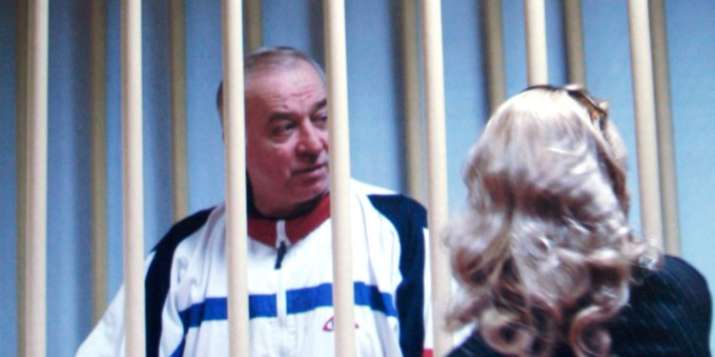 British counter-terrorism officers investigating the circumstances surrounding the suspected poisoning of a former Russian double agent and his daughter believe they were targeted with a deadly nerve agent.
Sergei Skripal, 66, and his 33-year-old daughter Yulia, were found collapsed on a shopping centre bench in the town of Salisbury in south-west England on Sunday afternoon and remain in critical condition in hospital.
A police officer who was the first to attend the scene is now in a serious condition in hospital, Metropolitan Police Assistant Commissioner Mark Rowley, head of Counter Terrorism Policing, said today.
The police believe Skripal and his daughter had been "targeted specifically" but have not released further details of the chemical agent used in an apparent attempt to poison them.
Some known forms of nerve agents include VX and sarin.
VX was used last year in the murder of Kim Jong-nam the estranged half-brother of North Korean leader Kim Jong-un. It is a tasteless and odourless liquid, which can be fatal to humans on skin contact. Sarin is also an odourless and colourless liquid, which is highly toxic.
Scientists at Porton Down in Wiltshire have been assisting the investigation, which is being led by Scotland Yard's counter-terrorism command, SO15, along with help from the country's intelligence agencies.
Earlier today, UK home secretary Amber Rudd chaired a meeting of the government's emergency COBRA committee.
Following the meeting, she indicated that the UK government was trying not to point the finger of blame at the Russian government until more was known.
"We need to keep a cool head and make sure that we collect all the evidence we can and we need to make sure that we respond not to rumour but to all the evidence that they collect and then we will need to decide what action to take," she said.
The Met Police has made a public appeal for information, urging anybody who visited Salisbury town centre on Sunday afternoon or who visited the nearby Zizzi Italian restaurant or the Bishop's Mill pub to come forward.
"It has not been declared a terrorist incident and we continue to keep an open mind as to what happened," a Met Police statement said.
Skripal, a former Russian colonel in military intelligence, had been jailed in Russia for "high treason" in 2006 but was later given refuge in the UK as part of a spy swap deal in 2010 in exchange for UK-based Russian spy Anna Chapman and around 10 other so-called undercover "sleeper" agents.
Skripal's daughter, who had been visiting her father from Russia, had reportedly been out of contact with her relatives in her native country for a few days.
Moscow has described the incident as "tragic" but denied any knowledge of the attack on Skripal and said that it is "always open to cooperation".
UK Foreign Secretary Boris Johnson had issued a strong statement in the House of Commons on Tuesday, warning of a robust response if any Kremlin involvement emerged.
"I say to governments around the world that no attempt to take innocent life on UK soil will go unsanctioned or unpunished," Johnson said, later calling the Russian state "in many respects a malign and disruptive force".
Skripal's mysterious illness has invited comparisons with the poisoning in London in 2006 of another Russian spy Alexander Litvinenko. The former KGB agent had been poisoned with the radioactive substance polonium-210 at a central London hotel.
A public inquiry had found that 43-year-old Litvinenko's killing had "probably" been carried out with the approval of Russian President Vladimir Putin, who had denied any Russian involvement and refused to extradite the two Russians accused by British authorities of the murder.