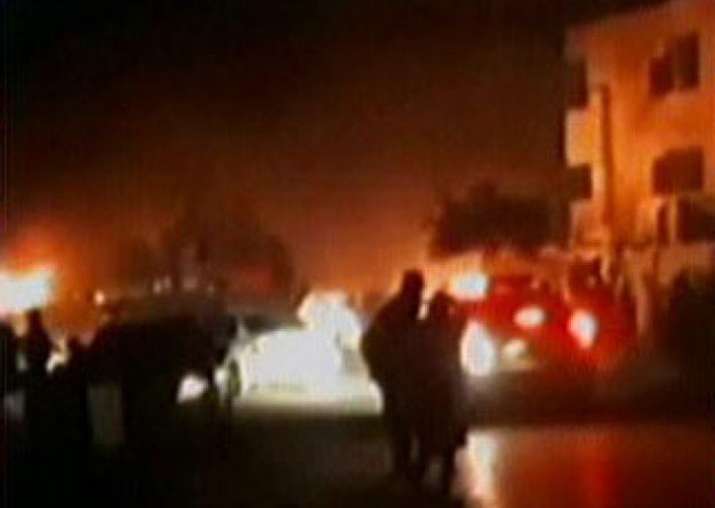 At least 17 people were killed and nearly 30 others injured today when a powerful blast targeting a vehicle of the security forces went off in Pakistan's Quetta city. The high intensity blast occurred in a parking lot near Pishin bus stop which is in a high security area. 
Baluchistan's Home Minister Mir Sarfaraz Bugti told media that a truck of the Frontier Corps was targeted in the blast. "The bomb disposal squad has reached the spot and we will be able to confirm soon whether it was a suicide attack or a planted bomb," he said. 
Bugti said around 30 injured persons were shifted to the Civil hospital for treatment and admitted that the condition of six to seven people was critical. "So far I can confirm that 10 people have been killed and their bodies have been shifted to the mortuary of the hospital," Bugti said. 
However, According to several television channels, around 17 dead bodies were brought to the hospital and most of them were badly charred and burnt. 
At least 17 people lost their lives in an explosion near Quetta's Pishin Stop, Geo News reported. 
The blast was so loud that it was heard in far off areas and caused a huge fire in which some vehicles and auto rickshaws were also damaged. 
An official of the Edhi trust in Quetta said around 15 bodies were shifted before adding that the death toll could be much higher. "The explosion was very powerful and loud. Its intensity was severe. Several car and auto rickshaws have been burnt or damaged after the blast as they caught fire due to the intensity of the blast," the official said. 
Quetta, the capital city of the restive Baluchistan province, has witnessed several terrorist attacks recently by militants and separatists while banned outfits have also carried out sectarian killings in the province.