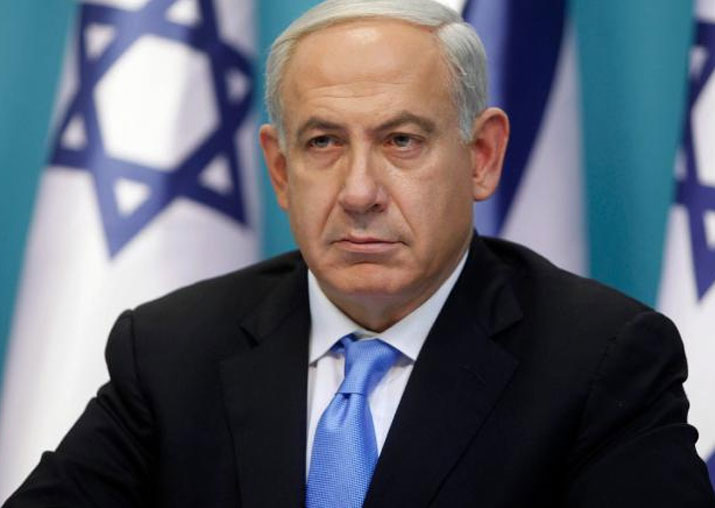 Israeli police on Tuesday recommended that Benjamin Netanyahu be indicted on bribery and breach of trust charges in a pair of corruption cases.
Netanyahu, however, angrily rejected the accusations, which included accepting nearly $300,000 in gifts from a pair of billionaires. 
The PM accused police of being on a witch hunt and vowed to remain in office and even seek re-election.
"I will continue to lead the state of Israel responsibly and loyally as long as you, the citizens of Israel, choose me to lead you," an ashen-faced Netanyahu said in a televised address. 
"I am sure that the truth will come to light. And I am sure that also in the next election that will take place on time I will win your trust again, with God's help," he added.
The recommendations marked a dramatic ending to a more than yearlong investigation into allegations that Netanyahu accepted gifts from Hollywood mogul Arnon Milchan and Australian billionaire James Packer, and suspicions that he offered to give preferential treatment to a newspaper publisher in exchange for favorable coverage.
The recommendations now go to Attorney General Avihai Mendelblit, who will review the material before deciding whether to file charges. Netanyahu can remain in office during that process, which is expected to drag on for months.
But with a cloud hanging over his head, he could soon find himself facing calls to step aside. During similar circumstances a decade ago, Netanyahu, as opposition leader, urged then-Prime Minister Ehud Olmert to resign during a police investigation, saying a leader "sunk up to his neck in interrogations" could not govern properly.
In the immediate aftermath of the police announcement, reactions quickly fell along partisan lines.
Cases against PM Netanyahu 
In a statement, police said their investigation found sufficient evidence to indict Netanyahu in the first case, known as File 1000, for accepting bribes, fraud and breach of trust.
It said Netanyahu had accepted gifts valued at 750,000 shekels ($214,000) from Milchan, and 250,000 shekels ($71,000) from Packer. The gifts from Milchan reportedly included expensive cigars and champagne.
Police said that in return, Netanyahu had operated on Milchan's behalf on U.S. visa matters, legislated a tax break and connected him with an Indian businessman. It said he also helped Milchan, an Israeli producer whose credits include "Pretty Woman," ''12 Years a Slave" and "JFK," in the Israeli media market.
In the second case, known as "File 2000," Netanyahu reportedly was recorded asking Arnon Mozes, the publisher of the Yediot Ahronot daily, for positive coverage in exchange for promoting legislation that would weaken a free newspaper that had cut into Yediot's business.
Police said there was sufficient evidence to charge both Milchan and Mozes with bribery.
Channel 10 TV read a statement that it said came from Milchan's "defense team" saying the bribery charge would not stand. It said his relationship with Netanyahu went back to the early 2000s, before he became prime minister, and that the men and their families were friends.
Netanyahu should quit due to corruption: Opposition
Israeli opposition leaders called on Netanyahu to step down as the embattled premier's allies rallied to his defense following police recommendations that he be charged with bribery and breach of trust in two corruption cases.
Nearly all of Netanyahu's Cabinet ministers issued statements of support and no coalition partners appeared ready to bolt. Netanyahu's coalition whip, David Amsalem, dismissed the recommendations and accused the police of committing "an illegitimate act here to attempt a coup d'etat in Israel."
Opposition politicians, meanwhile, called on Netanyahu to step down, and urged his coalition allies to abandon his government. Labor Party leader Avi Gabbay said Finance Minister Moshe Kahlon and Education Minister Naftali Bennett, leaders of two of the larger parties in Netanyahu's coalition, need to choose between supporting the prime minister and upholding the rule of law.
"I think it's clear here that this government needs to go to elections. It can't be that this government continues as is," Gabbay told Israel's Army Radio. "A prime minister that busies himself with attacking his police and law enforcement is simply attacking himself, attacking the country."
"There's really a government culture of corruption," he added.