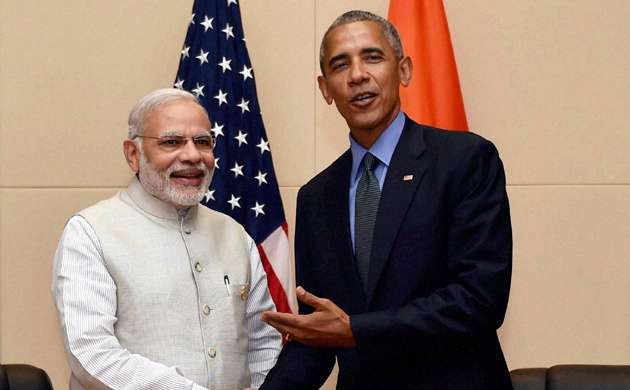 Indian Prime Minister Narendra Modi and US President Barack Obama today agreed to further strengthen strategic ties between the two countries.
The two leaders also decided to deepen bilateral ties in areas like civil nuclear cooperation and combating climate change.
President Obama also said that he had always been a friend of India and that he would remain so even in the future.
"Had a great discussion with President of the US (POTUS) on India-USA relations," Modi tweeted after his meeting with Obama on the sidelines of the East Asia Summit in Vientiane, their eighth in the last two years.
"President Obama praised Prime Minister Modi's initiatives to reform the Indian economy. In particular, the US president expressed confidence that the passage of GST will unleash significant economic activity," PTI quoted its sources as saying.
During the meeting, Obama also praised Modi's vision of entrepreneurship and innovation, which he said would be "very important for a country like India".
The two leaders also reviewed progress on Indo-US collaboration in nuclear energy, solar energy and innovation, the sources said.
"The meeting was very warm and friendly," they said.
Modi praised President Obama for his contribution to the relationship and the growing trust between the two countries.
He also invited the US President to visit India after demitting office to which Obama said he would welcome any opportunity to visit India.
On a lighter note, Obama said he and his wife Michelle were yet to see the Taj Mahal. Last year, Obama had cancelled a planned trip to the Taj Mahal, cutting short his visit to India to travel to Saudi Arabia following King Abdullah's death.
This could be the last meeting between Modi and Obama as leaders of the two countries with Obama's second term as US President coming to an end in January next year.
They met for the first time at the White House in September 2014 when Modi travelled to Washington DC at the invitation of Obama.
Modi had also exchanged views with Obama on the sidelines of the G20 summit in China's Hangzhou on Sunday, with the US President praising the "bold policy" move on GST reform in a "difficult" global economic scenario.
(With PTI inputs)