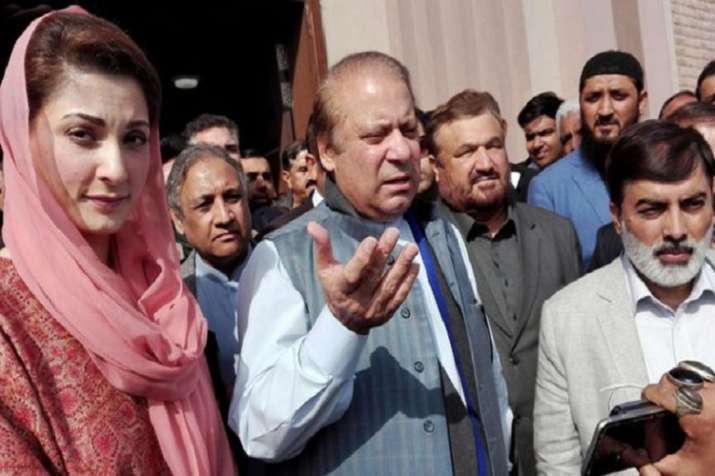 Former Prime Minister of Pakistan Nawaz Sharif will be arrested upon landing at Lahore airport on Friday as he travels from London to appeal his conviction and face a 10-year jail sentence handed down by an anti-corruption court last week. The news regarding his arrest was announced by the caretaker Information Minister Syed Ali Zafar on Thursday. Sharif and his daughter Maryam, who was given a seven-year sentence by the same court, won't be allowed to leave the airport, he added.
The anti-graft body - National Accountability Bureau - chairman Javed Iqbal has also ordered taking all necessary measures to arrest Sharif and Maryam upon their arrival at the airport.
He has also formed a 16-member team to arrest them and shift them to Adiala Jail Rawalpindi after producing them at the accountability court that sentenced the father-daughter duo last week.
The dramatic return by Sharif before the 25 July national election follows a two-year corruption scandal that engulfed Pakistani politics after the leak of the so-called Panama Papers showed his family used offshore accounts to buy high-end London apartments. The former premier was disqualified from the top job by the Supreme Court last July, his third ousting since the 1990s.
"Nawaz Sharif is coming back to fulfill his promise to the masses," his younger brother Shehbaz said on Twitter. "He knows that he will be put behind bars."
Meanwhile, Nawaz Sharif's petition to transfer the remaining two corruption cases against him to another accountability court was dismissed on Thursday. Judge Muhammed Bashir of the Islamabad Accountability Court stated that after passing the judgment and framing charges on members of the Sharif case, he cannot recuse himself from the case.
The Sharif family is now facing two more corruption cases in the accountability court — Al-Azizia Steel Mills and Flagship Investments — in which they are accused of money laundering, tax evasion and hiding offshore assets. 
Apart from 68-year-old Sharif, the accountability court sentenced his daughter Maryam and son-in-law Capt (retired) Safdar to jail in the Avenfield properties case. The Sharifs owned four apartments in the posh Mayfair area in London.
The Sharif family has consistently denied any wrong doing and has criticised the judiciary's handling of his case. Sharif said the nation's powerful military — which removed him in a 1999 coup — has conspired to manipulate the vote against his Pakistan Muslim League-Nawaz party in favour of his main political rival Imran Khan. On Wednesday, Sharif told reporters in London that the military's main spy agency has intimidated the PML-N's election candidates and has told them to switch parties or run as independents.
Authorities in Pakistan have launched a massive crackdown on the PML-N activists ahead of the arrival of its supreme leader Nawaz Sharif in Lahore from London, arresting over 300 workers to stop the party's planned rally at the airport on Friday. 
"Police have arrested more than 300 PML-N workers mostly from Lahore to stop us from welcoming our leader at the airport," Pakistan Muslim League-Nawaz (PML-N) spokesperson Marriyum Aurenzeb told PTI.
Such a massive crackdown on PML-N workers never happened even in the martial law regime, she said.
She said that despite all such tactics, the PML-N workers will reach the airport to give historic welcome to Sharif.
Lahore police has also placed containers on the city roads leading to the airport. A narrow passage has been left for motorists where police have been deployed for checking.
"Over 100 police commandos will be deployed at the airport on Friday to avert any untoward incident," senior Lahore police officer Sardar Asif said.
He said the police are taking only anti-social elements into custody ahead of Sharif's arrival. He said the arrested PML-N activists have been detained for 30 days under public order.
WATCH VIDEO: