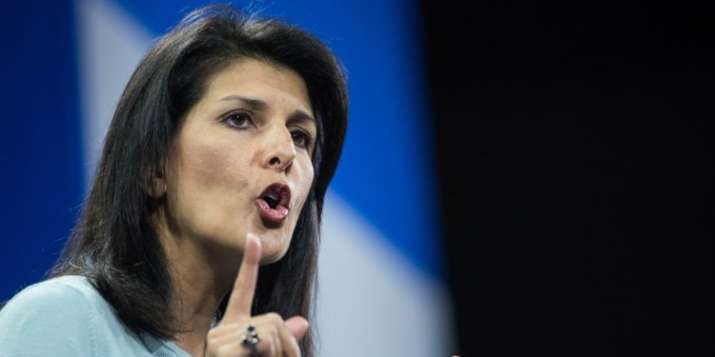 Asserting that Washington should not give Islamabad even a dollar until it addresses the issue of terrorism, US ambassador to the UN Nikki Haley has said Pakistan continues to harbour terrorists that turn around and kill American soldiers. The United States did not need to give money to countries that wish harm to America, go behind its back and try and "stop us from doing things," she said.
"...I think there should be a strategic view on which countries we partner with, which ones we count on to work with us on certain things and move forward accordingly. I think we just blindly allow money to keep going without thinking that this is real leverage. We have to use it," Haley said.
"The one example I'll give you is, look at Pakistan. Giving them over a billion dollars, and they continue to harbour terrorists that turn around and kill our soldiers —that's never okay. We shouldn't even give them a dollar until they correct it. Use the billion dollars. That's not a small amount of change," she said.
The first Indian-American ever appointed to a Cabinet position in any US presidential administration, Nikki Haley will step down as the UN envoy at the end of this year.
Chief State Department spokeswoman and a former Fox News journalist Heather Nauert was last week appointed as Haley's successor by President Donald Trump.
In September, the Trump administration had cancelled USD 300 million in military aid to Islamabad for not doing enough against terror groups active on its soil.
In October, Haley announced that she was leaving the post by the end of the year. The 46-year-old former South Carolina governor has served nearly two years in the post.
She said Pakistan should be told "you have to do these things before we will even start to help you with your military or start to help you on counter terrorism".
Last month, Trump defended his administration's decision to stop hundreds of millions of dollars in military aid to Pakistan, saying Islamabad does not do "a damn thing" for the US and its government helped late al-Qaeda leader Osama bin Laden hide near its garrison city of Rawalpindi.
"We give Pakistan USD 1.3 billion a year... (Laden] lived in Pakistan, we're supporting Pakistan, we're giving them USD 1.3 billion a year - which we don't give them anymore, by the way, I ended it because they don't do anything for us, they don't do a damn thing for us," he had said.
"They give safe haven to the terrorists we hunt in Afghanistan, with little help. No more!" Trump added.