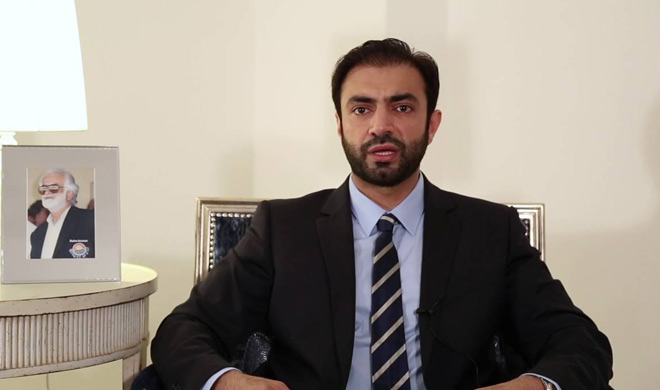 Pakistan on Tuesday approached the Interpol seeking Red Notices in the names of Baloch nationalist leader Brahumdagh Bugti and his aide Sher Mohammad Bugti, who are in Geneva, and their arrest. 
The Baloch leaders said they are not scared and have faith in the Swiss government.
In a letter to Secretary General of France-based Interpol, Director General of Pakistan's Federal Investigation Agency (FIA) urged: "The issuance of Red Notices against Brahumdagh Bugti and his aide Sher Mohammad Bugti is requested and arrest them through Interpol."
Brahumdagh Bugti, president of the Baloch Republican Party (BRP), had last year applied for asylum in India and had expressed confidence that New Delhi would accept his request. 
India has not yet replied to his request.
In the letter to Interpol, the FIA director also said that both Brahamdagh Bugti and Sher Mohammad Bugti were "involved in various terrorist attacks in Balochistan province of Pakistan".
A Red Notice is issued to seek location and arrest of wanted persons with a view to extradition or similar lawful action.
Reacting to Pakistan's move, Brahumdagh Bugti said, "The issuance of red warrants against me and my party leadership by Pakistan exposes its psychological defeat by democratic Baloch struggle. On one hand Pakistan claims that I don't have any support in Balochistan and on the other (hand) blames me for militancy."
"Pakistan cannot silence and suppress the democratic struggle of Baloch people by atrocities in Balochistan and issuing red warrants against us. The world is knowing more and more about Pak double standards and war crimes in Balochistan. Red warrants against us is a move in frustration," he said in a series of tweets. 
Taking a dig at Pakistan, Bugti said, "Interpol is not a terrorist outfit which Pak can use against political struggle of people. It is a responsible international organization."
Sher Mohammad Bugti, spokesperson of the Baloch Republican Party, said the FIA notice labels Baloch separatists and the leader of the party as "terrorists". They received news of the notice through some Pakistani journalists.  
"Pakistan has several times announced bounties on our heads and after failing each and every time they have now approached Interpol seeking Red Notice against me and Brahumdagh Bugti...But we are not scared and we know that Swiss government functions with genuine democracy. They know the reality of the Pakistani government," Sher Mohammad Bugti, told IANS on phone from Geneva.
He added that neither the local government nor Interpol had approached them.
Asked if they still hold Pakistani citizenship, Sher Muhammad said the Swiss government has given them asylum and they (Bugti and him) consider themselves Baloch citizens.
Brahumdagh Bugti is grandson of Nawab Akbar Bugti, a Baloch nationalist leader killed by the Pakistan Army in 2006.
He left Balochistan to save his life after Akbar Bugti's death and was first given asylum in Afghanistan from where he shifted to Switzerland in 2010 following a life threat. 
(With IANS inputs)