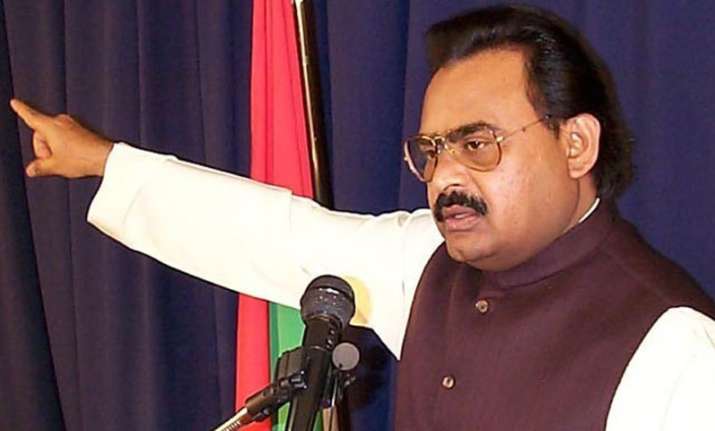 Muttahida Qaumi Movement (MQM) chief Altaf Hussain has said that Pakistan Army and its spy agency ISI are pushing Sindh province towards a civil war.
Seeking the intervention of the United nations and the international community into the matter, Altaf Hussain alleged that Pakistan Army and ISI have "virtually taken control" of all Pakistan including Khyber- Pakhtunkhwa, Sindh and all Balochistan.
"They have killed hundreds and thousands of innocent Mohajir Balochs and Pashtoons who raised their voice against Punjabi army," London-based Hussain said in an audio message. 
"Now the the world community is realising that Pakistani intelligence agency, ISI has been harbouring the most wanted terrorists including Osama bin Laden, Mullah Omer and Mullah Akhter Mansoor in Pakistan," he said. 
He asked "the UN Secretary General and the international community to intervene and use their offices to stop the bloodshed of Mohajirs, Balochs and Pashtoons" in Pakistan. 
Hussain said Pakistan Army and ISI are pushing Karachi, Hyderabad and urban centers of Sindh towards a civil war. 
"The patience of Mohajir Nation is cutting loose as more than 20,000 Mohajirs have been extra judicially killed in army-led operations which continues since 1992," he said. 
Referring to the recent Iranian statement warning Pakistan for safe havens of Taliban, jihadi groups, Hussain said Islamabad is getting isolated by every passing day in the world community. 
The MQM, Karachi's biggest political party, is facing a crackdown after its former self-exiled leader Altaf Hussain in London last year delivered an anti-Pakistan speech and asked his workers to launch attack on media. 
The MQM emerged as a largely ethnic party in the 1980s. It has political dominance in the southern Sindh provinces urban areas - notably in Karachi, Hyderabad, Mirpurkhas and Sukkur where a large number of urdu-speaking people who migrated from India during partition reside.
(With PTI inputs)