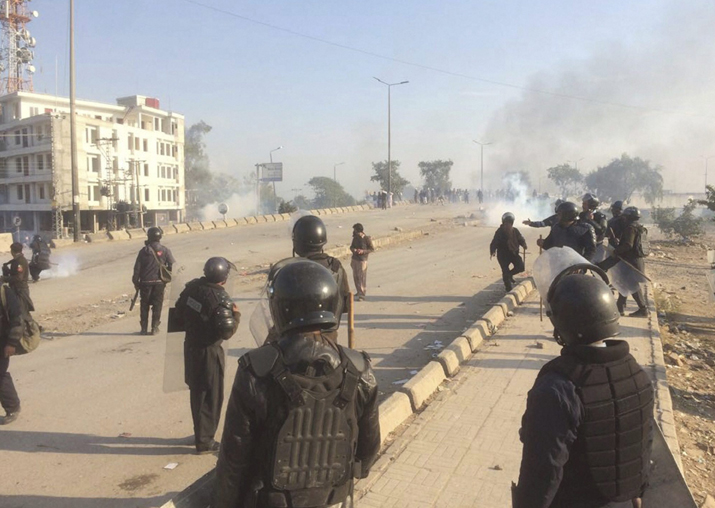 Pakistan's Interior Minister Ahsan Iqbal has claimed that hardline religious groups protesting in Islamabad had contacted India. 
According to a report in Dawn, Iqbal said that protesting people are not 'average citizens' and that the government was thoroughly investigating the matter.
"They are not your average citizens. We can see that they have various resources at their disposal. They have fired tear gas shells at security forces, they also cut the fibre optic cables of cameras that were monitoring their protest," Dawn quoted Iqbal as saying.
"Why they did it, we are looking into it. They have inside information and resources that are being used against the state," he added.
The Minister further said that government was clearing the sit-in as part of its legal obligations after the Islamabad High Court ordered to evict protesters.
"We have made all peaceful efforts, but we are forced to act as the group has not budged. These people do not know that anti-Pakistan elements are using this to spread malice against Pakistan," he said.
"We are trying to clear the area with minimum violence, but we also need to ensure the fundamental rights of people," he asserted.
"We are all Muslims and believe in Khatm-i-Nabuwwat. There is no threat to Khatm-i-Nabuwwat," he added.
After a police operation failed to end protest on the streets of Islamabad and nearby areas, the government has deployed an army unit to deal with situation. In yesterday's crackdown, at least ten people were killed and more than 250 were injured. 
More than 100 police officials were injured yesterday after security forces cracked down on the demonstrators, who are demanding the resignation of Law Minister Zahid Hamid over an omitted reference to the prophet in a parliamentary bill. The minister apologized for the omission — a phrase saying that Muhammad is the last prophet in Islam — saying it was a clerical error that was later corrected. 
But protest leaders were adamant and refused to clear the intersection unless the Minister resigned. Protestors said that the action undermined Islamic beliefs and linked it to blasphemy.
"The federal government is pleased to authorize deployment of sufficient number of Pakistan army troops to be determined by the Commander 111 Brigade, in aid of civil power to control law and order situation in Islamabad Capital Territory," an order issued by the Interior Minister said.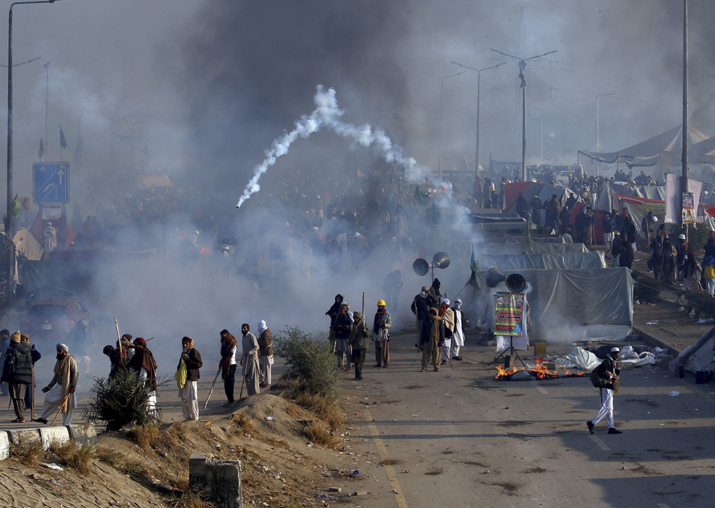 In a phone call, Chief of Army Staff Qamar Javed Bajwa offered Prime Minister Shahid Khagan Abbasi the military force needed to take care of the situation.
"COAS telephoned PM. Suggested to handle Isb Dharna peacefully avoiding violence from both sides as it is not in national interest & cohesion," Army spokesman Gen. Asif Ghafoor tweeted.
The phone call came after some 5,500 security forces failed to disperse followers of cleric Khadim Hussain Rizvi of the Tehreek-e-Labaik party, who demanded the resignation of Justice Minister Zahid Hamid. After hours of clashes that spread to other cities, police ended the crackdown.
The protests erupted after the Pakistani Parliament approved on October 2 an amendment to the electoral law eliminating an oath public servants had to take before assuming office, and in which they expressed their belief in Mohammed as the last prophet of Islam.
Following massive protests by hardline Islamists, Parliament reinstated the article three days later and Hamid issued a video to pacify the protesters. The hardliners, however, insisted the amendment was a blasphemy and have been demanding Hamid's resignation ever since.