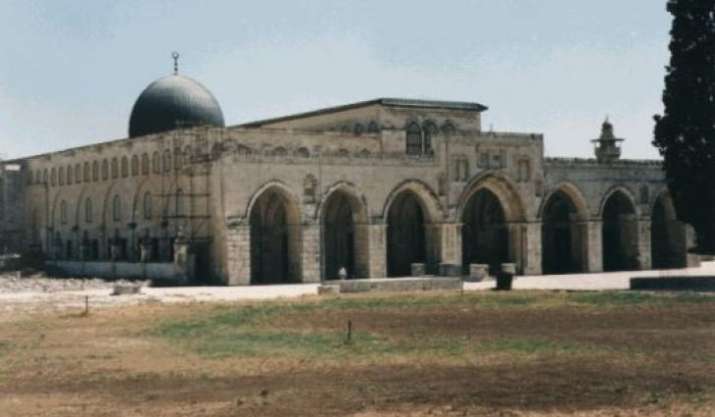 Part of Al-Aqsa mosque in Jerusalem was burning at the same time as Notre Dame Cathedral in Paris was ravaged in flames, Newsweek hasreported.
There isn't any evidence to establish any link between these two incidents but timing of the mishaps has amazed people world over. Al-Aqsa mosque is the third holiest site in Islam. It was built in the seventh century.
Newsweek reported that Palestine News Agency quoted a guard who said the fire broke out in guard room outside the roof of Marwani prayer room of the mosque. The flames were brought under control.
A video said to be of the fire at the mosque is being shared on social media.
طواقم الإطفاء تخمد حريقاً اندلع على سطح المصلى المرواني في المسجد الأقصى. pic.twitter.com/eMb59JGrsa

— شبكة قدس الإخبارية (@qudsn) April 15, 2019
Russia Today has also published a report on the fire at Al-Aqsa Mosque.
Fire at Al-Aqsa mosque was not reported widely as that at Notre Dame Cathedral.
Notre Dame Cathedral caught fire on Monday (April 15).
Built in 1160, Notre-Dame is a medieval Catholic cathedral and is considered to be one of the finest examples of French Gothic architecture.
The cathedral is known for its enormous and colorful rose windows and the naturalism and abundance of its sculptural decoration all set it apart from earlier Romanesque architecture.
As the cathedral of the Archdiocese of Paris, Notre-Dame contains the cathedra of the Archbishop of Paris (Michel Aupetit). 12 million people visit Notre-Dame yearly, it thus being the most visited monument in Paris.
Also Read | Breyer finds hope, optimism in Notre Dame rebuilding effort
Also Read | Nations express solidarity with France after Notre Dame fire