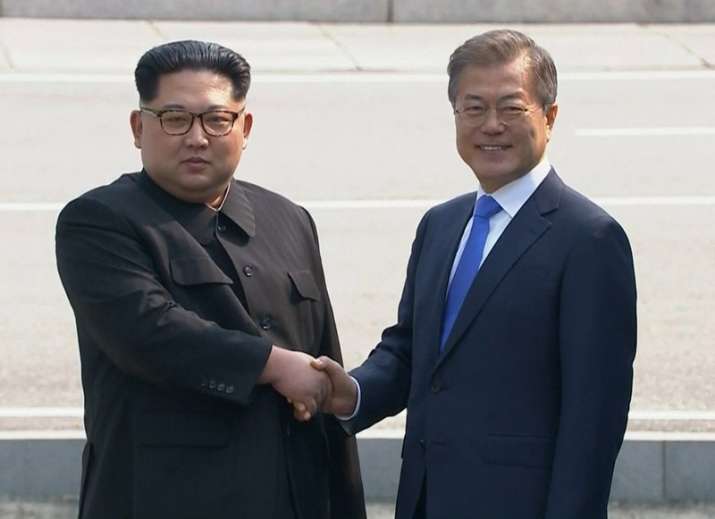 North and South Korea on Friday signed a declaration – a 'peace regime' – agreeing to work for the "complete denuclearisation of the Korean peninsula', bringing the Korean War to an end after 68 years. 
Kim Jong-un became the first North Korean leader to step into the South for 65 years as he met with President Moon Jae-in for a peace summit today.
Kim Jong Un said the Koreas are "linked by blood as a family and compatriots who cannot live separately". 
"Same people, same blood, so we cannot be separated and should live together in unification. I hope we live together soon as a new path forward," ABC News quoted Kim Jong as saying. 
The Koreas have a host of difficult and often seemingly intractable obstacles ahead of them, but no matter the outcome of the summit, they seemed acutely aware that the photos of Kim and Moon's handshake will be bound for the history books.
They also agreed that they would this year seek a permanent end to the Korean War, 65 years after the hostilities ended in an armistice rather than a peace treaty.
Moon would visit Pyongyang in "the fall", the two leaders said, also agreeing to hold "regular meetings and direct telephone conversations". 
The so-called Panmunjom Declaration capped an extraordinary day unthinkable only months ago, as the nuclear-armed North carried out a series of missile launches and its sixth atomic blast. 
Kim said he was "filled with emotion" after stepping over the concrete blocks into the South, making him the first North Korean leader to set foot there since the shooting stopped in the Korean War. 
The two Koreas will closely co-ordinate to ensure they do not "repeat the unfortunate history in which past inter-Korea agreements...fizzled out after beginning," Kim said after a summit with the South's President Moon Jae-in. 
North and South Korea have agreed to stop all hostile acts over "land, sea and air" that can cause military tensions and clashes, after a summit between their leaders at a border truce village.
North Korean leader Kim Jong Un and South Korean President Moon Jae-in announced Friday that starting May 1 they will suspend all loudspeaker propaganda broadcasts the countries have been blaring at each other across their heavily-armed border. They will also dismantle broadcasting equipment.
The Koreas also agreed to stop flying propaganda leaflets across their border.
The countries also agreed to take steps to defuse the relatively frequent clashes around their western maritime border by designating the area as a "peace zone" and guarantee safe operations of fishermen from both countries.
The Koreas plan to hold military talks in May to further discuss reducing tensions.
The two Koreas have agreed for South Korea's President Moon Jae-in to visit Pyongyang sometime this autumn.
The agreement came after a historic summit between the leaders of the two Koreas at the border village of Panmunjom on Friday.
A joint statement didn't say when Moon would visit Pyongyang. But it says Moon and North Korean leader Kim Jong Un will meet on a regular basis and exchange calls via a recently established hotline.
After a year of tensions, the first North-South Korea summit in more than a decade began Friday with a handshake.
Surrounded by bodyguards and other members of his delegation, North Korean leader Kim Jong Un emerged right on cue from a large building on the northern side of the border in the truce village of Panmunjom, walked down a wide flight of stairs and strolled confidently toward South Korean President Moon Jae-in to begin the historic meeting.
Smiling broadly and exchanging greetings, the two shook hands for a long time, exchanging greetings and looking from outward appearances like old friends.
Moon had awaited Kim's arrival at "Freedom House," a building on the southern side of the Demilitarized Zone. As soon as he saw Kim come out, he walked to meet him at the border so that their handshake would be at the most symbolic of locations, each leader standing on his side of the military demarcation line that separates North from South.
Their hands still clasped, Moon invited the North Korean leader into the South for the first time ever, just one step over a line marked by an ankle-high strip of concrete.
After he did, Kim, in return, gestured for Moon to step into the North. They both did, and then returned to the South together, hands held.
Kim was then met by South Korean children bearing flowers and a military honor guard before he headed into the summit hall to sign a guestbook, visibly out of breath.
Like everything about Friday's summit, the handshake and all the atmospherics around it were carefully orchestrated and agreed upon in advance. North and South Korean officials conducted three days of on-site rehearsals to map out virtually every move of the leaders' initial encounter.
Even so, the moment was a striking contrast to the rising fears of conflict that dominated relations just one year ago, when Kim was test-launching long-range missiles at a record pace and trading crude insults with U.S. President Donald Trump.
It was the second big North-South handshake in as many months — coming after Moon and Kim's younger sister, Kim Yo Jong, who accompanied him on Friday, shook hands at the opening ceremony of the Pyeongchang Winter Olympics in the South in February.
That seemingly impromptu moment came as a joint North-South team marched into the Olympic Stadium, part of an effort to use the Games to try to improve relations.
Moon, elated at the sight, turned and shook the hand of Kim's sister, who was seated right behind him in the VIP box on the first trip to the South ever by a member of the North's ruling family. The image of the two beaming with pride stood out all the more because U.S. Vice President Mike Pence, representing the White House, sat stone-faced nearby.
Photos of that handshake were top news the next day in both Koreas.
The Koreas have a host of difficult and often seemingly intractable obstacles ahead of them, but no matter the outcome of the summit, they seemed acutely aware that the photos of Kim and Moon's handshake will be bound for the history books.