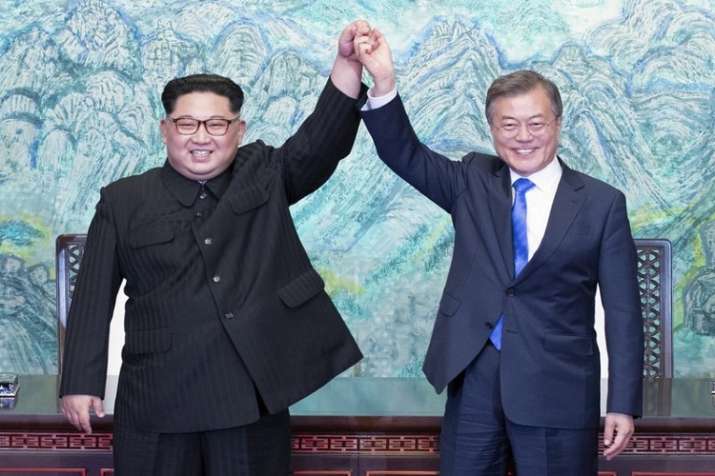 North Korea and South Korea on Tuesday agreed to hold high-level inter-Korea talks on May 16 to discuss further steps needed to uphold the historic Panmunjom declaration, taken by the North Korean supremo Kim Jong-Un and South Korean President Moon Jae-in, wherein the two leaders pledged to pursue the complete denuclearisation of the Korean peninsula.
In its statement, the South Koreas Unification Ministry said that the South and the North will hold a high-level inter-Korea meeting on May 16 in the Peace House in Panmunjom to discuss the implementation of Panmunjom Declaration of Peace, prosperity, and unification of the Korean Peninsula.
According to reports, North Korea send a 29-member delegation led by Ri Son-gwon, chairman of the 'Committee for the Peaceful Reunification of the country' to the summit.
From South Korea, Unification Minister Cho Myoung-gyon will lead a team of five.
North Korea has scheduled the dismantlement of its nuclear bomb test site for some time between May 23-25 in order to uphold its pledge to discontinue nuclear tests, the country's state media reported on Saturday.
Moon Jae-in and Kim Jong-Un had met earlier for the inter-Korean summit at the Panmunjom village near the Demilitarised Zone (DMZ), wherein both the leaders declared their mutual cooperation to pursue the complete denuclearisation of the Korean peninsula and end the nearly seven-decade-long Korean war.
The high-level inter-Korean talks comes a month before the much-anticipated summit between US President Donald Trump and Kim Jong-Un in Singapore. Both the leaders are scheduled to meet on June 12.