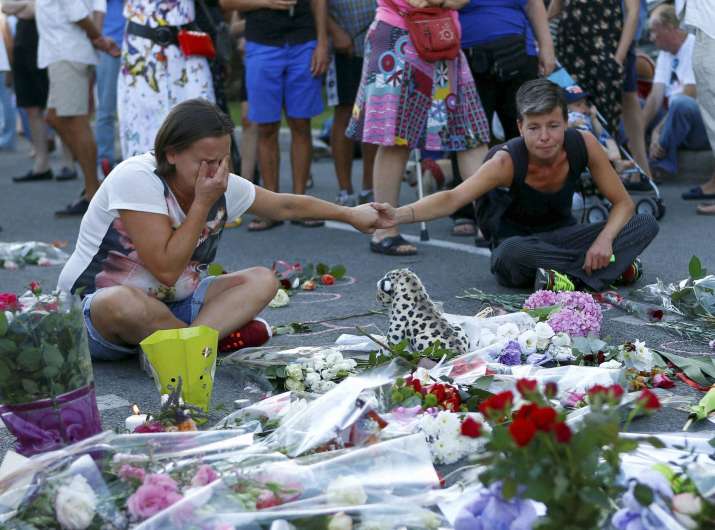 Nice: Mohamed Lahouaiej Bouhlel, the Nice truck attacker staked out the scene of Thursday's carnage twice in the two days with his rented lorry before launching his final assault.
According to news agency AFP, 31-year-old Tunisian, sent a text message just before the attack in which he "expresses satisfaction at having obtained a 7.65-millimetre pistol and discusses the supply of other weapons".
He also took a selfie at the wheel of the 19-tonne truck in the days before he ploughed it into a crowd of people who had been enjoying a fireworks display on Bastille Day, France's national day, killing 84 and injuring about 300.
At least 10 children were among the dead as well as tourists from the United States, Ukraine, Switzerland Germany and about 10 from Russia, a local Russian association said.
French health minister Marisol Touraine said that 85 people were still hospitalised, 18 people of them in critical condition.
On the second day of national mourning, the Russian Orthodox Church in Nice held an emotional mass for the victims. Another service was planned at Paris's iconic Notre-Dame cathedral.
While some friends and family of Lahouaiej-Bouhlel said he had drank heavily and did not attend the local mosque, others spoken of a recent and swift "shift to radical Islam."
The attacker's father, who lives in eastern Tunisia, said his son had suffered from depression and that he had "no links" to religion.
With the government having declared three days of mourning for the nation's loss, questions are being asked about the fact that attacks are becoming seemingly regular.
An Albanian who was suspected of providing the driver with the pistol was arrested on Sunday in Nice.
Besides the Albanian, six other people were being held over the attack. Lahouaiej-Bouhlel's estranged wife was released Sunday after two days of questioning.
Unlike attacks that have involved explosives-laden vehicles, the sheer weight and speed of the truck on the busy promenade appeared to have caused the high number of deaths.
"Using vehicles in attacks is a fairly well-established tactic with al-Qaida and the Islamic State group," said Matthew Henman, managing editor at IHS Jane's Terrorism and Insurgency Centre. "The deliberate use of a heavy truck targeting a crowd illustrates the demonstrability of the attack and could be the precursor for other attacks."