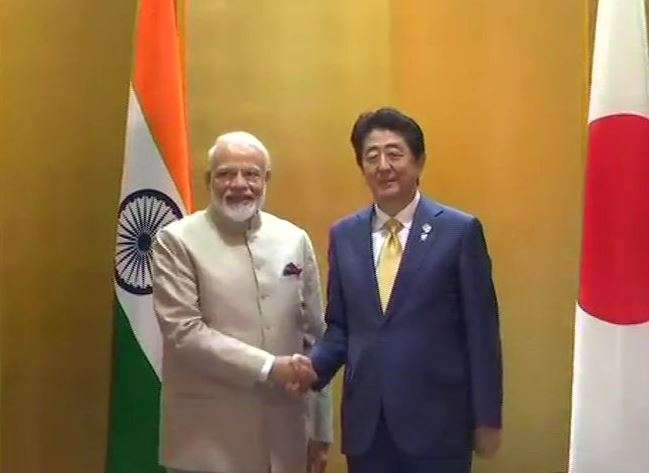 Prime Minister Narendra Modi on Thursday arrived in Japan's Osaka for the G20 Summit. He attended important plurilateral meetings and met with the world leaders including US President Donald Trump. In his departure statement, Modi said, the summit will provide an important opportunity to reiterate and reinforce India's strong support to reformed multilateralism, which is crucial for preserving rule-based international order in today's fast-changing world.
He said, G 20 summit will also be a platform for sharing India's strong developmental experience of the last five years, which provided the basis for a resounding mandate by the people of the country to the Government to continue on the path to progress and stability.
The PM said, the Osaka Summit will be an important stepping stone for India towards hosting the G-20 Summit in 2022, when we usher in a New India in the 75th Anniversary of the Independence.
He held discussions with Japanese PM Shinzo Abe on wide-ranging topics such as global economy, issues of fugitive economic offenders and disaster management and announced that the Indian President will participate in the coronation ceremony of Emperor Naruhito in October.
Later in the day, he addressed Indian diaspora in the city of Kobe in Japan. 
In his speech, he lauded increasingly strong India-Japan ties and predicted that the relationship will stand the test of time as Indian economy charts its way towards becoming a USD 5 trillion economy in the next 3 years.
"When it comes to India's relationship with the world, Japan has an important place in it. This relationship is dated back to centuries. There is a sense of belonging, goodwill and respect for each other's culture and civilization," PM Modi said during his speech.
PM Modi invoked the metaphor of Gandhiji's three monkeys in his speech. 
"Our relations with Japan are centuries old. We have respect for each other's cultures. This is because of Bapu (Mahatma Gandhi)...We all have heard his saying -- 'bura mat dekho, bura mat suno, bura mat kaho' (see no evil, hear no evil, speak no evil). But very people know that the genesis of the three monkeys he chose to spread the message is in the 17th century Japan," he said.
"The three monkeys are Mizaru, covering his eyes, who sees no evil; Kikazaru, covering his ears, who hears no evil; and Iwazaru, covering his mouth, who speaks no evil," he added.
G20 Summit: Highlights
12:10 pm: Chinese President Xi Jinping on Thursday arrived in Osaka, Japan to attend the G20 summit.
12:03 pm: Both PMs would meet again tomorrow for a trilateral meeting between Japan, India & US, there was a brief discussion on the Indo-Pacific initiative that all three countries are separately pursuing and discussing together: V Gokhale, Foreign Secy on meeting of PM Modi & Japan PM
12:00 pm: PM Abe referred specifically to PM Modi's initiative in earlier G20 meetings on the issue of fugitive economic offenders and he said that G20 should deal with this problem as part of its anti-corruption measures: Foreign Secretary Vijay Gokhale on PM Modi-Japan PM Shinzo Abe meet
11:55 am: It was a very warm meeting, both leaders are old friends. They had a very constructive and detailed discussion on the bilateral relationship: Foreign Secretary Vijay Gokhale on PM Modi-Japan PM Shinzo Abe meeting 
11:00 am: Thank you once again for the congratulations, you were the first friend of India who congratulated me, on phone. I also express my gratitude for the warm welcome you and Japan Government have accorded to us: PM Narendra Modi to Japan PM Shinzo Abe
10:55 am: Once again would like to offer my hearty congratulations to you for an overwhelming win in elections. Also, next time it is my turn to visit India and I am looking forward to my visit: Japan PM Shinzo Abe to PM Modi
10:50 am:
Prime Minister Narendra Modi meets Japan Prime Minister Shinzo Abe on the sidelines of the #G20Summit in Osaka, Japan. pic.twitter.com/tG6CxhG3ni

— ANI (@ANI) June 27, 2019
G20 Summit: Top points
G20 Summit will be held in Osaka on June 28-29
This will be Prime Minister Modi's sixth G20 Summit. 
Apart from Trump, Prime Minister Modi will also meet Chinese President Xi Jinping, Russian President Vladimir Putin and other leaders during the G20 Summit. 
Former Union Minister Suresh Prabhu is the Prime Minister's Sherpa at the summit. 
The theme of the summit is Human-centred future society. Food security, energy security, financial stability, terrorism-related issues, Innovation in the digital economy and artificial intelligence will be discussed.
More than 20 countries will be participating in the G20 Summit. 
Early morning arrival in Osaka.

The #G20 Summit, bilateral and multilateral interactions await PM @narendramodi in the coming two days.

He will elaborate on many issues of global importance and present India's viewpoint. pic.twitter.com/13OStvVjbn

— PMO India (@PMOIndia) June 26, 2019
Reached Osaka to join the #G20 Summit.

Grateful to the dynamic Indian community for the warm welcome! pic.twitter.com/BrPkl9VJqJ

— Narendra Modi (@narendramodi) June 27, 2019
WATCH VIDEO: PM Modi arrives in Japan for G20 Summit