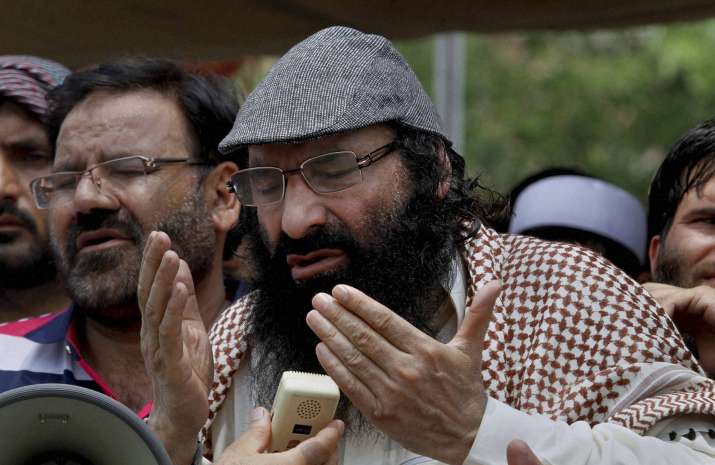 Vowing to block any peaceful political resolution to the Kashmir conflict, Hizbul Mujahideen chief Syed Salahuddin on Saturday threatened to train more Kashmiri suicide bombers, who would turn the Valley into "a graveyard for Indian forces".
In an interview with the Times of India, Syed Salahuddin, one of the top terrorists on India's most-wanted list, dismissed the talks as futile and insisted that militancy was the only solution to Kashmir. 
"The Kashmiri leadership, people and mujahideen should know there is no formal, peaceful way. There wasn't any option but to launch a target-oriented armed struggle", he told TOI in an interview at his office in Baila Noor Shah area of Muzaffarabad.
Salahuddin's warning came a day before an all-party delegation led by Union Home Minister Rajnath Singh was to visit Jammu and Kashmir as part of government's effort to bring normalcy in the Valley. 
Talking of the situation in Kashmir since the killing of Hizb commander Burhan Wani, Salahuddin said, "For nearly two months, since the killing of Wani, curfew has not been lifted in the region. The entire region has been turned into a concentration camp," he said. 
"These sacrifices will not go in vain. The more they resort to use of force, the more they strengthen the movement of separatists and freedom fighters," he added. 
Salahuddin, 69, also heads the United Jihad Council, a Pakistan-backed alliance of militant groups which has carried out multiple terror activities in J&K. 
He said that talks would not yield any results until India "accepts and recognises Kashmir as a dispute."
"If you do not accept it as an issue, then what is the need for dialogue," he asked. 
Last month, Salahuddin had threatened a nuclear war against India over Kashmir issue.
Addressing media in Karachi, Salahuddin had said that there is a great possibility of a nuclear war taking place between India and Pakistan over the Kashmir issue.
Reminding Islamabad of its responsibility, the Hizbul chief said, "Pakistan is duty bound, morally bound, politically bound and constitutionally bound to provide concrete, substantial support to the ongoing freedom struggle on the territory of Kashmir." 
Meanwhile, curfew-like restrictions remained in force in rest of Kashmir even as normal life remained paralysed for the 57th day on Saturday even as the delegation of major political parties visits the state on Sunday. 
A youth was yesterday killed in clashes between protesters and security forces in Qazigund area of South Kashmir taking the death toll in the ongoing unrest to 71.
Two police personnel are among those killed while several thousand others have been injured in the clashes between protesters and security forces in the Valley since Hizbul Mujahideen militant Burhan Wani was killed in an encounter in south Kashmir on July 8.