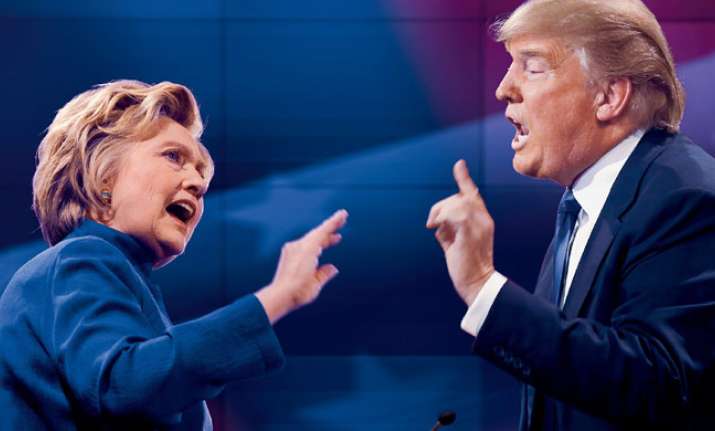 Democratic nominee Hillary Clinton and her Republican rival Donald Trump commenced their final presidential debate here at the University of Nevada on Wednesday night.
Moderated by Fox News journalist Chris Wallace, the two candidates for the 90 minutes will discuss six topics: national debt and health and social benefits, immigration, economy, the Supreme Court, foreign flashpoints and their fitness to be president, CNN reported.
This debate comes 20 days before the November 8 election.
Here are the live updates:
Both the candidates leave the stage without shaking hands -- again.
Clinton accuses Trump of being 'most dangerous' White House candidate in modern history.
When question about the country's GDP, "I am going to create tremendous jobs and we are going to bring GDP from 1 pc to up to 4 pc and I think we can go higher up to 5 pc or 6 pc."
We will go after Baghdadi like we went after Bin Laden when you (Trump) were doing Celebrity Apprentice: Hillary Clinton.
We should have never let ISIS happen in the first place. We are outplayed by Putin, Assad and Iran: Trump
On Aleppo, Donald says, "Aleppo was a disaster. What has happened is sad. And a lot of it is because of Hillary Clinton. She is willing to take in thousands of refugees and many of them may be IS aligned."
He also said that Bernie Sanders made big mistake by supporting Clinton. 
Clinton replies, "Once again Donald is implying that he didn't support the invasion of Iraq. Google Donald Trump- Iraq and you will find sources which say he was in favour of invasion."
When questioned about ISIS and Mosul, Trump says, "We had Mosul, but when she(Hillary) left and took everybody out,we lost Mosul. Goal would be to take back Mosul( from ISIS), I know that it will be a tough fight."
"Trump is denigrating our democracy. His refusal to say he'll recognize the outcome of the election is horrifying," says Hillary. 
Trump says he will look at election results at the time before deciding whether to accept results.
Trump says he is entitled to take massive amounts of depreciation in taxes because of laws imposed by people like Clinton.
Half of undocumented immigrants pay more income taxes than Trump, she adds. 
Clinton accuses Trump of being the first president in more than 40 years who has not released his tax returns to prove charitable donations.
Hillary :Clinton foundation does good work around the world, including providing aids treatment.
Trump terms Clinton Foundation as a 'criminal enterprise'.
Trump says Saudis support Clinton foundation, they have poor human rights record against gays and women. 
On Clinton Foundation, Clinton says, "90 percent of Clinton Foundation money goes into charitable rating, and his foundation spends money on buying a 6-foot portrait of Trump."
Hillary: This is who Donald is. We heard Donald (Trump) talking about what he did to women, and after that a number of women have come forward saying that's exactly what he did.
I didn't even apologise to my wife... because I didn't do anything, says Trump
Clinton makes yet another stringent attack, "He thinks belitting women makes him bigger. He has attacked women who accused him of groping them."
"Those stories have been largely debunked. Those people, I don't know those people. I have a feeling how they came," he says. 
Trump says Clinton is behind female accusers of sexual assault and that the accusations are lies and fiction.
When questioned about the allegations of sexual harassment, Trump says, "No one has more respect for women than I do."
Countries like Saudi Arabia have a lot of money. We are protecting them, they have to pay up. I am a big fan of NATO, but they have to pay up: Trump
Trump: We will get our jobs back from Mexico and other places. Right now, our country is dying at 1 per cent GDP
Trump: If you (Hillary) become president, this country is going to be in some mess.
Hillary: I personally believe that the steps that President Obama took saved the economy.
Clinton's plan would raise and double taxes in America: Trump hits back. "Our country is stagnant. We've lost our jobs, we've lost our businesses," he further adds. 
When the middle class thrives, America thrives, says Hillary when questioned about nation's economy. 
Clinton says the Russian government has engaged in espionage against the US by hacking emails
When questioned about hacking and espionage, Hillary says, "He'd rather believe Putin than intelligence agencies of our country." On this, Trump replies, "I've never met Putin, this isn't my best friend. Putin has outsmarted Obama and her (Hillary) at every single step on the way."
We will have secure borders but we will also have reforms: Hillary
On immigration law, Donald says, "We need strong borders. I want to build the wall. We have some bad hombres here and we're going to get them out."
This is one of the worst possible choices a woman and her family has to make... Government has no business in this decision.

I will be handing over my Twitter account to my team of deplorables for tonight's #debate#MakeAmericaGreatAgain

— Donald J. Trump (@realDonaldTrump) October 20, 2016

.@HillaryClinton lists litany of ways she plans to restrict gun rights. 2A will not survive a Hillary presidency. #Debate #BigLeagueTruth

— Donald J. Trump (@realDonaldTrump) October 20, 2016

Clinton hits back: Trump doesn't know what he's talking about when it comes to women's health. He shouldn't be making the decisions.
I respect the tradition of gun ownership, but we must have "reasonable regulation, says Hillary on gun control. 
"I am pro-life," says Donald Trump on abortion. I will defend planned parenthood. Donald has said there will be some kind of punishment for women who get an abortion, he added.
Chris Wallace, host of a Sunday show on Fox news, asks, "how will you ensure the second amendment is protected?". To the question, Hillary replies, "I support the second amendment but I also believe there needs to be reasonable restrictions." Trump says, "We need a SC which will uphold the second amendment , which is under siege."
When asked about where do you see the Court take the country, Hillary said the Supreme Court needs to stand at the side of the US people and not the powerful corporation. On the contrary, Trump said he would appoint conservative, pro-life Supreme Court justices. 
Presidential candidates Hillary Clinton and Donald Trump head straight to their lecterns, without shaking hands, again.