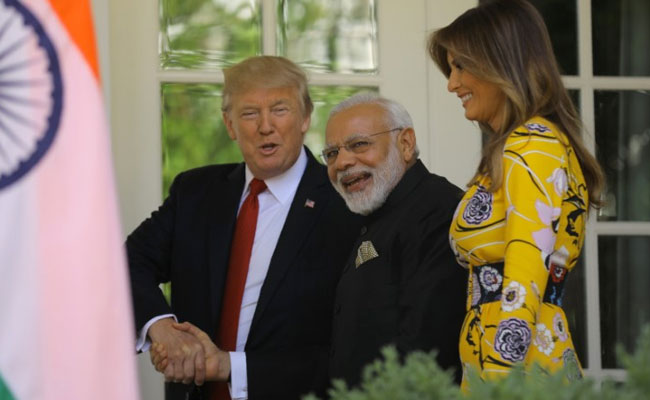 Prime Minister Narendra Modi gifted US President Donald Trump and First Lady Melania Trump an array of gift items including a traditional, handcrafted Himachali silver bracelet, tea and honey from Kangra Valley and hand-woven shawls from Himachal Pradesh and Jammu and Kashmir, news agency ANI reported.
During his interaction with Trump, PM Modi gifted the US President a folio containing original commemorative postal stamp, issued by India in 1965, to mark the death centenary of Abraham Lincoln. 
"The stamp honoured the memory of a great American President and the symbolized closeness of ideals Lincoln and Mahatma Gandhi believed in," the Prime Minister's office posted on Twitter.
Both President Lincoln and Mahatma Gandhi led from the front, with indomitable courage against the forces of reaction and outmoded beliefs. pic.twitter.com/XaPZTdangT

— PMO India (@PMOIndia) June 26, 2017
He also gifted the President a wooden chest with intricate inlay pattern, a speciality of Punjab's Hoshiarpur district, to the US president.
On the other hand, President Trump, welcoming Modi, gave the latter a guided tour to White House, which included Lincoln's bedroom. He showed PM Modi a copy of President Lincoln's famous Gettysburg address and the desk on which he wrote it.
PM Modi also invited President Trump's daughter Ivanka to come to India to lead the US delegation of entrepreneurs. The American businesswomen and former fashion model, Ivanka Trump serves as assistant to the US president.
During their meeting, the camaraderie between both leaders was on full display. Both leaders not only hugged each other more than once but also appreciated each other's leadership.
In their joint statement after the meeting, Donald Trump and PM Modi called on Pakistan to stop its soil from being used as terror launch pads.
The two leaders said that terrorism is a global scourge that must be fought in every part of the world, and the US and India would do it together.