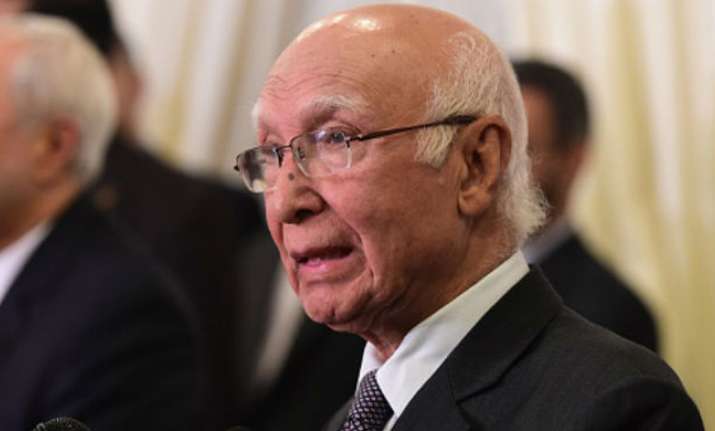 Sartaj Aziz, Adviser to the Pakistani Prime Minister on Foreign Affairs, today said that the Kashmir issue would only be resolved through indigenous movements led by the younger generation.
According to a report in 'Dawn', Sartaj Aziz told Pakistan's National Assembly that Islamabad would continue to extend political, diplomatic and moral support to the Kashmiri cause on international and bilateral forums.
"We have been taking our diplomatic campaign forward with zeal since Prime Minister Nawaz's speech regarding the Kashmir issue in the United Nations General Assembly. The movement has not lost any of its zeal even after the aggression against it and Pakistan will continue to support it," Sartaj Aziz said.
Sartaj Aziz added that Pakistan was ready for a dialogue with India provided Kashmir dispute is also part of the agenda.
"Pakistan is willing to hold a dialogue with India on all issues, on the condition that the Kashmir dispute is brought to the table and a resolution sought in accordance with United Nations resolutions," he said.
"Even though we have a policy of neighbourly relations with all neighbouring countries we will stick to this policy on Kashmir issue. These are the points of our international policy, which has always remained the same, even though there is a shift in its intensity from time to time," he added.
Referring to the cross-firing at the LoC, Sartaj Aziz said that Pakistan will respond in kind to any Indian violence as the country has the capability to defend its borders.