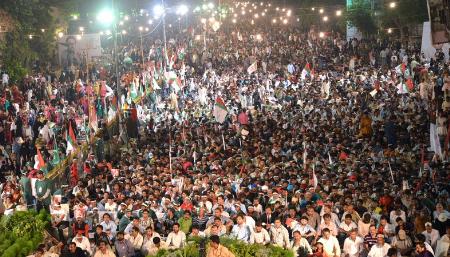 While Pakistan sheds crocodile tears over the recent incidents of violence in Kashmir in the aftermath of Hizbul terrorist Burhan Wani's killing on one hand, the 'Mohajirs' of Karachi are demanding liberation from what they call state oppression by Pakistani government as well as the Army.
Denied justice in their homeland, the Mohajirs are now trying to take the battle to the international platforms.
On Saturday, Mohajir protesters and loyalists of the Pakistani Army clashed with each other in front of the White House in Washington.
 
Things turned so ugly that American security personnel had to intervene and physically separate the two warring groups.
The protest in front of the White House was led by Muttahida Quami Movement (MQM), the group that mostly represents Pakistani migrants from India.
 
According to a report published in The Times of India, a large demonstration of MQM workers from all across US marched in front of the White House on Saturday.
MQM workers took out the demonstrations after their party convention was addressed via video link by MQM chief Altaf Hussain who is based out of London for the last two decades.
Altaf Hussain and his followers urged the US government to intervene and pressurise the Pakistani government to stop the rampant killing of the Mohajirs by the Punjabi-dominated Pakistan military. MQM accused Pakistani authorities of indulging in "cold-blooded murder" of thousands of party activists.
 
Altaf Hussain also asked Obama administration to send observers to Karachi for monitoring the large scale humnan rights violation taking place in the city. He said that if US can do it for other countries then it should do the same for Pakistan as well.
 
Hussain also promised to visit US in October amid speculations that he might shift his base from London.
It should be recalled that Pakistani authorities and political parties have accused Altaf Hussain and his MQM of working at the behest of Indian intelligence agencies despite the fact that the world community has started accepting the fact that the Mohajirs are being harassed indeed by Pakistani Army.