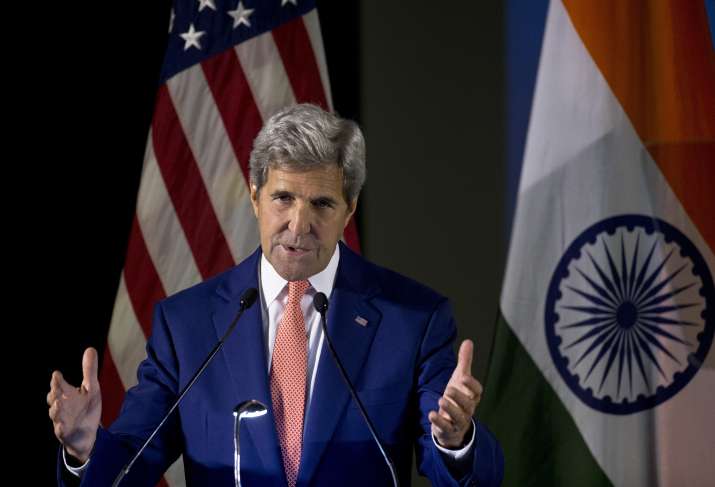 US Secretary of State John Kerry, who is on a three-day visit here, on Wednesday said that the Indian economy could witness impressive growth provided India's bureaucracy ceases to set up roadblocks.
"Your entrepreneurs... urgently need the freedom to pursue new ideas, the ability to start up new businesses without a lot of red tape, and access to infrastructure that makes it easier to translate fresh concepts into successful companies," Kerry said addressing students at the IIT-Delhi campus.
"You have to have sensible regulations and your bureaucracy needs to be streamlined and effective -- a partner in making decisions, not an expert in setting up roadblocks."
Recognising India as one of the fastest growing economies, Kerry also noted that its red tape and a lack of transparency continues to discourage entrepreneurs and foreign investors.
"Even though we are witnessing impressive gains in India's economic growth, there is still a real question as to whether we are doing so quickly enough," he added.
Kerry, who is on his fourth visit India, was scheduled to have a talk with IIT Delhi's students at 9.30am, but was delayed as heavy rains lashed the capital. He arrived closer to 11 am, instead.
"I don't know if you came in boats or amphibious vehicle of some kind," Kerry asked, provoking laughter. There was a foot deep flooding on the road in front of IIT-Delhi.
The speech of Kerry was an effort to capitalize on the improving US-Indian relationship to further open up a market where access for American companies has been limited.
India ranked 130th in the global league table collected by the World Bank for ease of doing business.
Prime Minister Narendra Modi has also pledged to rid India's reputation as a difficult place to do business in.