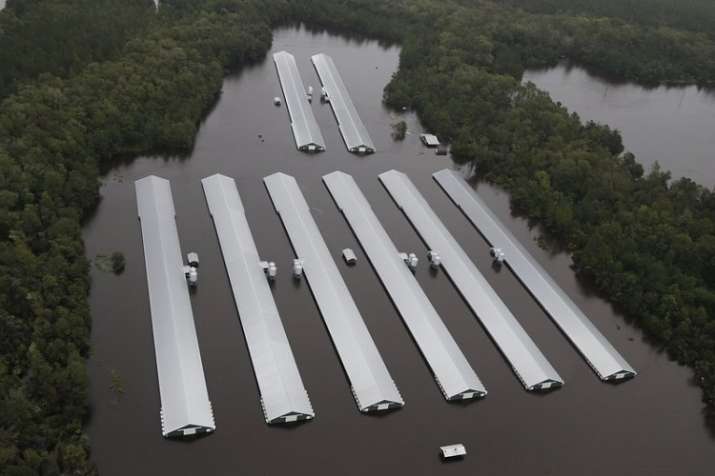 The death toll due to Hurricane Florence in North Carolina and South Carolina in the United States touched 17, as the hurricane battered the region with heavy rainfall on Sunday. Florence downgraded to a tropical storm and caused "catastrophic" flooding, leaving over one million homes without power.
The local authorities, volunteers and the US Coast Guard rescued more than 900 people from the rising water levels of flood since Sunday.
The National Hurricane Center warned of rainfall of up to 40 inches (101.6 cm), which would mean "catastrophic" flooding. It also said the storm surge of up to 13 feet (3.9 m) will be "life threatening".
Nearly 5.25 million people reside in areas under hurricane warnings or watches, said the US National Weather Service, while 4.9 million in places under the tropical storm warnings or watches.
The storm continued to crawl westward, dumping more than 30 inches (75 centimeters) of rain in spots since Friday, raising the fear for historic flooding.
Mass evacuation from communities was ordered along the state's steadily rising rivers — with the Cape Fear, Little River, Lumber, Waccamaw and Pee Dee rivers all projected to burst their banks.
Up to 7,500 people living within a mile (1.6 kilometers) of a stretch of the Cape Fear River and the Little River, about 100 miles (160 kilometers) from the North Carolina coast were immediately evacuated post the order.
The evacuation zone included part of the city of Fayetteville, population 200,000.
US President Donald Trump said federal emergency workers, first responders and law enforcement officials were "working really hard."
As the storm "begins to finally recede, they will kick into an even higher gear. Very Professional!" he declared in a tweet.