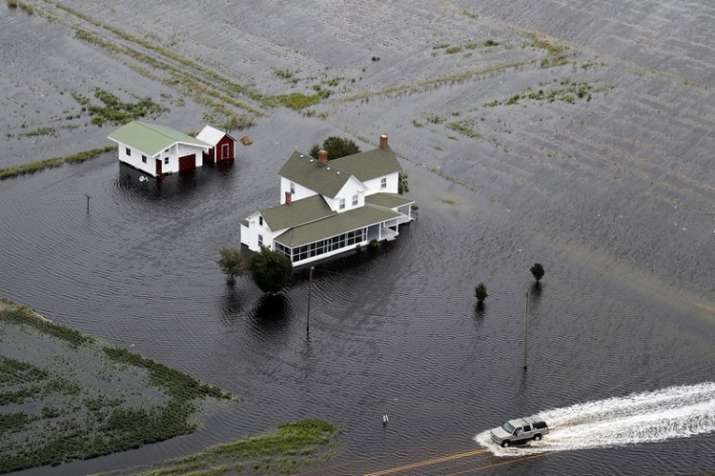 At least three more people lost their lives in North Carolina as a result of Hurricane Florence, surging the death toll to 11. Boats, helicopters and heavy-duty vehicles were used by the civilian crews, the Marines and by the coast guard on Saturday, as hundreds of people trapped in the hurricane were rescued.
A day after blowing ashore with 90 mph (145 kph) winds, Florence practically parked itself over land all day long and poured on the rain.
Thousands of people were ordered to evacuate as the rivers swelled to record levels. As per the forecasts, Hurricane Florence could result in the most destructive flooding in North Carolina history for the next few days.
Several places saw more than 60 centimeters of rain, with forecasters saying there could be an additional 1½ feet (45 centimeters) by the end of the weekend.
Rivers in North Carolina flooded as the hurricane slammed into the coast on Friday and has since then left several dead.
The core of Tropical Storm Florence is now drifting westward over South Carolina, threatening more flash floods and major river flooding.
According to the National Hurricane Center, Hurricane Florence was located about 65 miles (100 kilometers) east-southeast of Columbia around 8 pm on Saturday. Its top sustained winds have dropped some to 45 mph (75 kph) and Florence is crawling along at 2 mph (4 kph).
The storm is still being considered dangerous and is likely to cause heavy rainfall over wide areas of North Carolina and South Carolina.
The hurricane could kick up a few tornadoes on its trek across the region, forecasters said.
US President Donald Trump took to Twitter and offered condolences and sympathy for the storm victims.
"Deepest sympathies and warmth go out to the families and friends of the victims. May God be with them!", the US president tweeted.
Hurricane Florence is moving towards the Carolinas after dumping heavy rains and causing severe flooding.
The flooding threat continues in the region.