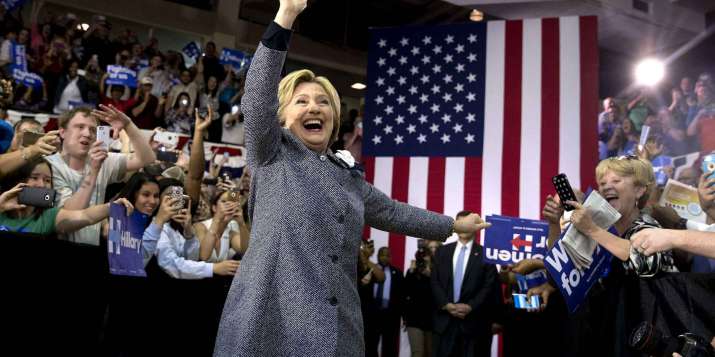 Democratic presidential candidate Hillary Clinton has consolidated her position in three swing states of New Hampshire, Pennsylvania and Virginia making her a favourite to win the November presidential elections, according to a CNN report.

 

These three states have a total of 37 electoral college votes and these additional votes have take her tally to a total of 273 electoral votes surpassing the minimum 270 electoral votes to win the White House.
According to CNN political director David Chalian, even if the Republican nominee Donald Trump wins all the battleground states on the map, he would stil be short of the 270 votes required to win the presidential elections.
However, things might change between now and November 8 when Americans would go out to vote to elect their 45th president. A latest Pew poll showed Clinton's lead over Trump has come down from nine per cent to four per cent.
According to CNN, solid Republican states are Alabama (9), Alaska (3), Arkansas (6), Idaho (4), Indiana (11), Kansas (6), Kentucky (8), Louisiana (8), Mississippi (6), Missouri (10), Montana (3), Nebraska (5), North Dakota (3), Oklahoma (7), South Carolina (9), South Dakota (3), Tennessee (11), Texas (38), West Virginia (5), Wyoming (3). All this make 158 electoral college votes.
Arizona (11), Georgia (16), Utah (6) making 33 votes in total are considered to be lean Republican states. Florida (29), Iowa (6), Nevada (6), Ohio (18), North Carolina (15) which in all account for 74 votes are battleground states, CNN said.
Lean Democratic states of Colorado (9), Michigan (16), New Hampshire (4), Pennsylvania (20), Virginia (13), Wisconsin (10), account for 72 votes in all. Solid Democratic states are California (55), Connecticut (7), Delaware (3), DC (3), Hawaii (4), Illinois (20), Maine (4), Maryland (10), Massachusetts (11), New Jersey (14), New York (29), Oregon (7), Rhode Island (4), Vermont (3), Washington (12), Minnesota (10), New Mexico (5). This accounts for 201 electoral college votes.
(With PTI inputs)