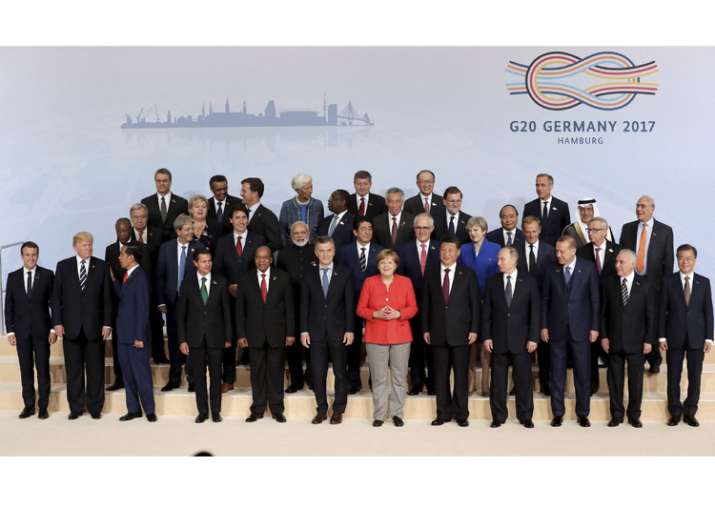 As the G20 Summit got underway amid violent protests in this German port city, a consensus appeared to be emerging on issues like fight against terror, global warming and protectionism among majority of the world leaders including Prime Minister Narendra Modi. 
While the world leaders debated issues ranging from global trade to terrorism, officials were busy discussing behind the scenes a joint summit declaration with initial draft showing the US being sidelined in key areas like climate change and protectionism, sources said. 
There was near unanimity however on the need for a stronger concerted global effort to fight the terror menace and to clamp down on terrorist financing and safe havens. Besides, more efforts may be stressed upon to boost global trade, sources added. 
They said efforts were on to ensure that the Summit communique also refers to the developments in Syria and those regarding North Korea. The final joint communique will be issued at the end of the two-day summit tomorrow evening. 
At a leaders' retreat, just before the official opening of the Summit, several world leaders including Modi called for greater coordination and more measures to fight terrorism. Naming Pakistan-based terror groups LeT and JeM, Modi told the G20 meet that some countries were using terror as a tool to achieve political objectives and pressed for "deterrent" action collectively by the G-20 members against such nations. 
Addressing the G20 Summit here, he equated Lashkar-e-Taiba and Jaish-e-Mohammed to ISIS and Al-Qaeda, saying their names may be different but their ideology is the same. The Indian Prime Minister presented an 11-point 'Action Agenda' which included suggestions for exchange of lists of terrorists among G20 nations, easing and expediting of legal processes like extradition and concrete steps to choke funds and weapon supply to the terrorists. 
"Some nations are using terrorism for achieving political goals," Modi said in a clear reference to Pakistan. 
Regretting that international response to terrorism has been "weak", Modi said the nations are less networked in dealing with the menace while the terrorists are better networked. 
Earlier in the day, Modi told BRICS leaders during an informal meeting that geopolitical tensions were rising due to North Korea as well as developments in the Gulf and West Asia which are a matter of concern. He said the world is getting affected severely by the worsening security scenario and the ups and downs in the international politics. Modi also described the spread of terrorism in West Asia and the threat posed to Asian and European countries as also the rising impact of terrorism in Afghanistan as serious problems. 
While fight against terrorism was discussed in detail during the leaders' retreat, several world leaders also deliberated upon the matter in their respective bilateral meetings. 
In her opening statement, German Chancellor Angela Merkel asked the G20 leaders to find a solution on controversial issues without abandoning their principles. She said the world is facing a string of challenges and time is of essence. "...strike a compromise if we accommodate each other's views, but without bending over... we can also say we differ," Merkel said amid talks about lack of consensus on key issues like a climate change and open trade. 
Outside the Summit venue, protests continued by various anti-capitalism and other rights groups, forcing US President Donald Trump to avoid the normal route to the Summit meeting and take a longer route. While Merkel welcomed all the leaders warmly, police had to call extra force as backup to increase the security in this already heavily guarded port city that has historically been a key symbol of free global trade. 
Later in the evening, the leaders are scheduled to attend a musical concert at the city's newly opened Elbphilharmonie concert house, where Hamburg Philharmonic State Orchestra will play the European Union's unofficial anthem, 'The Ode to Joy' from Beethoven's 9th Symphony. 
After the concert, Merkel will host dinner for the leaders and their partners. At that time, the government heads are expected to have informal discussions on various issues that may have a bearing on the final communique.