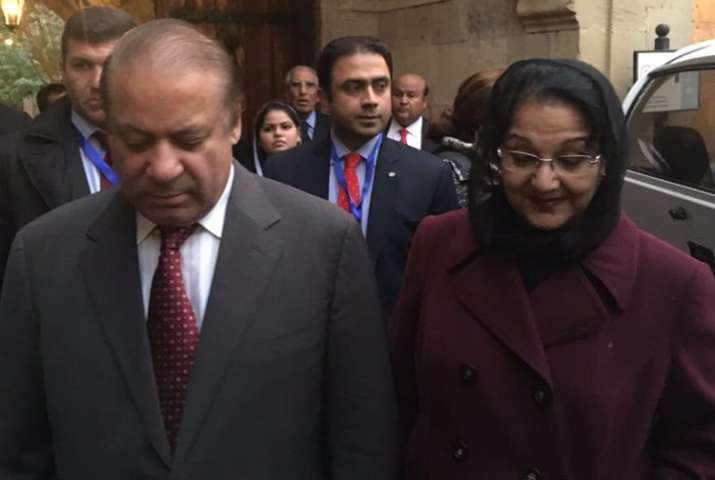 Kulsoom Nawaz, wife of Pakistan's ousted prime minister Nawaz Sharif, has been diagnosed with throat cancer, a close aide of former premier said today. "Begum Kulsoom has been diagnosed with throat cancer in London. Doctors have said that her cancer is curable," Sharif's political secretary Senator Dr Asif Karmani told PTI. 
Kulsoom had filed nomination papers for NA-120 in Lahore after the seat fell vacant following Sharif's disqualification to hold any office by the Supreme Court on July 28 in the Panama Papers case. 
"Doctors will start her treatment in coming days in London," Dr Karmani added. 
Kulsoom, in her mid-60s, had suddenly left for London last week on the day when her nomination papers were to be filed in the Election Commission of Pakistan. 
Dr Karmani said Kulsoom would not be able to participate in election campaign for some days. 
He further said that Kulsoom's absence federal commerce minister Pervaiz Malik will supervise her election campaign. 
According to a PML-N leader, Kulsoom had not been well for quite sometimes but Sharif preferred to pitch her on his constituency making her a possible candidate for the prime minister slot. 
Meanwhile, the Lahore High Court Appellate Tribunal yesterday rejected all appeals filed against the nomination papers of PML-N candidate Kulsoom for the NA-120 by-poll. 
Petitioners had argued that Kulsoom Nawaz also holds a work permit of UAE like that of her husband on which he was disqualified. 
Sharif won the seat by a substantial margin in the 2013 general elections, defeating Imran Khan's Pakistan Tehreek-e-Insaf's Yasmin Rashid, who is again contesting for the seat this time around.