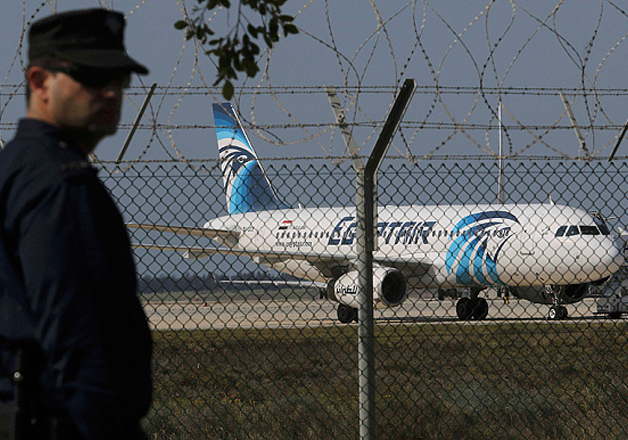 Cairo/Nicosia: The hijacker of the EgyptAir plane which was on a domestic flight and later landed in Cyprus has been identified as Seif El Din Mustafa, Egyptian authorities said.
According to reports, Seif is an Egyptian national who is demanding political asylum in Europe. Also, the hijacker had put forth a wish to see a Cypriot woman, his estranged wife who lives on the island. 
Initially, the authorities named the hijacker as Ibrahim Samaha which turned out to be false. Samaha, a professor at Alexandria University, was actually one of the rescued passengers.
The Airbus 320 was on its way from Alexandria to capital Cairo when a passenger claiming to be armed with explosives took charge of the aircraft and forced it to fly to Larnaca in southern Cyprus, EgyptAir said.
The man's motivation was unclear, but Cyprus President Nicos Anastasiades said the hijacking was "not something that has to do with terrorism" and a Cyprus government official, speaking on condition of anonymity to discuss an ongoing investigation, said the man "seems (to be) in love."
The passengers included 30 Egyptians and 26 foreigners, including eight Americans and four Britons, Sherif Fathy, Egypt's aviation minister told in a press conference.
Shortly after it landed in Larnaca, almost all the passengers were let off. Videos showed them deboarding. 
EgyptAir said negotiations had resulted in the release of the passengers.
The Egyptian aviation ministry had earlier said the hijacker had threatened to detonate an explosives belt, forcing the captain to divert the flight to Cyprus.
Cyprus foreign ministry official said, "Egyptair MS181 hijacker "appears to be unstable" and his motives are still unclear." The Egyptian Foreign Ministry has also rubbished claims that Seif Eldin Mustafa is a terrorist, saying: "Terrorists are crazy but they aren't stupid. This guy is."
Cypriot police said those in control of the aircraft had made no immediate demands after it landed in Larnaca. The Larnaca airport was closed and all scheduled flights were diverted. Cypriot anti-terrorism units have been deployed at Larnaca airport to deal with the crisis.