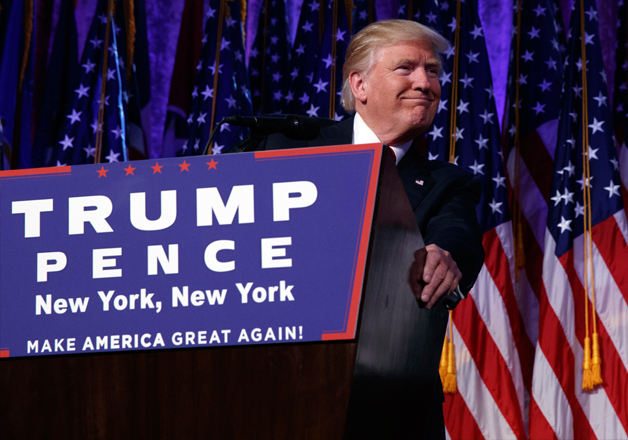 Republican presidential nominee Donald Trump's victory in the bitterly contested US elections has left citizens around the globe dumfounded. Right from the beginning of his campaign, Trump was seen as the less favourite between the two competitors, the other being Republican nominee Hillary Clinton.
Despite trade pundits predicting against a likely win for Trump, the 70-year-old man scripted history today. Throughout the campaign, tags of 'sexist', 'misogynist', 'Islam phobic' never left Donald's side but his win proves that none of it mattered to the voters.
The clinching of the Presidential win by Trump brought out some unbelievable reactions on Twitter. Wednesday, the decider in the polls, saw Twitter activity to the tune of over 35 million tweets.
The reactions on the micro-blogging website ranged from 'Go home 2016, you are drunk' to others saying that they didn't realise America was such a racist and sexist country.
As Trump walks his way into the White House, here's a look at how citizens from around the globe reacted to his win:
President Trump didn't win on his own. Most astonishing thing is that THIS is how majority of Americans voted.#ElectionNight#RIPAmerica

— Ulrich Janse van Vuuren (@UlrichJvV) November 9, 2016
Trump is now the most powerful man in the world#ElectionNight #RIPAmerica #trumpwins pic.twitter.com/rKzAUfxcni

— Hogwarts Logic (@Hogwarts_Logics) November 9, 2016
Blacks, women, disabled, LGBT, Muslims, people who continue to believe in equality... BE STRONG. 💖#RIPAmerica#Trumpwins#ElectionNight

— Jess· 🌈 (@london_girl93) November 9, 2016
This is an embarrassing night for America. We've let a hatemonger lead our great nation. We've let a bully set our course. I'm devastated.

— Chris Evans (@ChrisEvans) November 9, 2016
You know what we do now? We finish building what we started and we FIGHT BACK! Lift your heads up brothers and sisters.

— Mark Ruffalo (@MarkRuffalo) November 9, 2016
Where's Steve Harvey when you need him? 😂 #AmericaIsOverParty #ElectionNight #RIPAmerica pic.twitter.com/kM1EHoyjVr

— — jerrㅤ (@imjerrylingayen) November 9, 2016
Liberal media's reaction to Trump's big win#ElectionNight #PresidentTrump #RIPAmerica pic.twitter.com/lSZH4IosMX

— Ethan Ralph (@TheRalphRetort) November 9, 2016
It's okay, America, we have room for y'all 🇺🇸 #trumpwins #PresidentTrump #USElection #USADecides #ElectionNight https://t.co/lpd7kp3s0J pic.twitter.com/NFsTm8tWHF

— ScotlandNow (@ScotlandNow) November 9, 2016
BARACK OBAMA
WE WILL MISS YOU #USElection2016
#ElectionNight pic.twitter.com/yQ1K5qoZYv

— Suzy (@In_Luv_with1D) November 9, 2016
President Trump??
Wake up, wake up, wake up, wake up, wake up, wake up!
This can't be real!#ElectionNight#USElection2016#DonaldTrump

— Ulrich Janse van Vuuren (@UlrichJvV) November 9, 2016
"Lord knows they tried their best."#ElectionNight pic.twitter.com/ghanGEplZD

— Larry Elder (@larryelder) November 9, 2016
#Trump didn't win. Racism won. Sexism won. Hate won. Lack of education won.#disappointed #ElectionNight  #ElectionNight  #ElectionNight "

— Juan Estrada (@cirocboy500) November 9, 2016
Trump proved pundits and most media projections wrong and led with 276 electoral votes against his Democratic opponent's 218. With projections from most of the states clear, there was despondency in the Clinton campaign headquarters where many openly wept. Trump supporters were jubilant, repeatedly cheering the Manhattan billionaire.